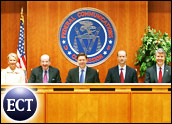 Reports continue to circulate that the Federal Communications Commission has enough votes to rule that Comcast illegally blocked traffic between peer-to-peer Internet applications and that the government will soon set down guidelines for the Internet service provider that could serve as a precedent regarding the hotly debated topic of Net neutrality.
The FCC could issue a ruling later this week, following reports in national media that Democratic commissioners Jonathan Adelstein and Michael Copps have joined Chairman Kevin Martin in deciding that Comcast should face some kind of action or sanction. Those actions could range from mandating public disclosure of all network management practices to fines, although Martin has reportedly taken the possibility of financial penalties against Comcast off the table.
However, while the ISP industry and consumer advocates await official word, Comcast continues to maintain its innocence, leading to speculation that the cable company could challenge a negative ruling in federal court.
Comcast, Consumer Advocates Stick to Their Guns
"It is always hard to respond to rumors; however, we continue to assert that our network management practices were reasonable, wholly consistent with industry practices, and that we did not block access to Web sites or online applications," Comcast spokesperson Sena Fitzmaurice told the E-Commerce Times. "We do not believe the record supports any other conclusion."
On the other side of the debate, Net neutrality advocates are all but claiming outright victory. "We are heartened by reports the commission will find Comcast's blocking to be illegal," Markham Erickson, executive director of Open Internet Coalition, told the E-Commerce Times. "This will be a key opportunity for the commission to enforce the broadband policy statement to protect consumers' rights. A decision in support of the complaint against Comcast will help promote competition and choice on the Internet."
Comcast's Options After a Ruling
The harshness of the enforcement action will be key to determining Comcast's next step, Doug Williams, an analyst with JupiterResearch, told the E-Commerce Times. "If no fine is made, then in my view, Comcast will not pursue it in federal court, if it's no more than a slap on the wrist. They have already decided to adopt a protocol-agnostic effort to manage their network.
"Basically what this boils down to is that the FCC's Net neutrality principles are simply suggestions, not hard and fast rules and regulations that exist, and while Comcast wouldn't necessarily go against those regulations, the FCC would have a hard time enforcing them," he added.
Indeed, previous Comcast statements on the issue have challenged whether the FCC has authority to regulate network management practices. Comcast has also maintained that a small number of customers have been affected when traffic to peer-to-peer applications has slowed down.
A better explanation to customers regarding those network management practices could help defuse the situation. "As a consumer, you need to know what you're paying for," Mukul Krishna, global director for the digital media practice at Frost and Sullivan, told the E-Commerce Times. "If you are a heavy user [of bandwidth], then Comcast has to define what it means by heavy user. The users than have the option to pay someone else for their service … from the consumer perspective, you have to have full disclosure."