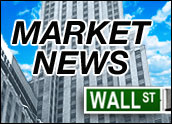 A weak outlook for the economy and oil's continued march toward new record-high prices left U.S. stocks mixed today, with the Dow suffering a second straight day of sharp losses.
The markets had news to digest, little of it good, after the Conference Board reported that the index of leading economic indicators fell .3 percent in August, the third straight month of declines and a larger drop than forecast.
Strategic Petroleum Reserve
The Conference Board noted that the long-term trend remains positive, indicating continued growth, but the numbers did little to soothe investors, who saw the markets suffer heavy losses yesterday.
The Dow followed up yesterday's triple-digit loss with another stumble, giving up 70.28 points to close at 10,038.90, a one-month low.
The S&P 500 was also down, losing 5.20 points to close at 1,108.36, while the tech-heavy Nasdaq managed to eek out the slimmest of gains, rising just .72 points to 1,886.43.
Word that the Bush administration was weighing whether to tap the Strategic Petroleum Reserve for the first time in two years in order to offset a drop in production because of Hurricane Ivan did little to stop the rise of crude prices.
The government emphasized that any oil released from the reserve would be a loan meant to carry producers over until they can get Gulf of Mexico oil.
Analysts Unimpressed
Analysts said the release would not be enough to alter the oil price landscape for long.
Oil rose to within 24 cents of the all-time record high it set back in August before retreating, but was still up slightly on the day to $48.46.