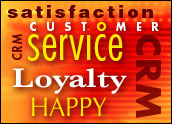 As online commerce becomes an everyday part of many consumers' lives, some companies are switching their focus from attracting new customers — an ever-decreasing pool of recruits — to rewarding frequent shoppers.
Conventional loyalty programs typically consist of point-based systems. Consumers accumulate points that can be redeemed for airline miles, cash, free meals, and so forth. The American Express rewards program is a classic example of an old-line customer retention strategy. New companies — and, in particular, pure-play e-commerce companies — have been struggling to find just the right formula for the new medium.
Although loyalty programs may be innovative in the e-tail realm, the biggest online success stories still come from companies that have been doing business offline for a long time. According to estimates by research firm Gartner, more than 75 percent of consumers have more than one loyalty card that rewards them with redeemable points. In 2003, U.S. companies spent a total of more than US$1.2 billion on customer loyalty programs, and that figure is expected to rise in the future.
Transferring loyalty programs to the Internet, however, has proven to be a tricky endeavor. Some websites have tried to emulate the personalization and customization strategies used by traditional loyalty programs, with only mixed success.
So, which companies are doing it right?
Established Players
Not surprisingly, the most successful programs on the Internet are run by the types of companies that have perfected offline loyalty programs: airlines, casinos, and hotels.
John Bartold, account director at loyalty marketing firm Frequency Marketing, told the E-Commerce Times that airlines and hotels, in particular, have the strongest online loyalty plays because they have focused on this area for long enough to know what works.
"These are very mature programs — they've been at this for a long time," he said. "They've been able to build these programs slowly, and that's made a difference."
Bartold noted that transferring an established offline program to the Internet seems to work better than trying to create an online-only program from scratch.
Ahead of the Pack
Of course, some companies' programs are more popular and have more features than others. Bartold cited American Airlines, Delta Air Lines, Marriott, and Hilton as top purveyors of online loyalty efforts.
Randy Petersen, publisher of frequent flier comparison site WebFlyer, told the E-Commerce Times that while he favors the programs run by American Airlines and Continental, he thinks hotels still need to perform some offline-to-online transition work.
"Hilton is a player, but they're stuck in two worlds because they haven't fully converted," he said. "Hyatt is probably farther behind in the game, but a major website [re]design would fix that."
Petersen added that the Intercontinental Hotel Group has proven to be a leader in rewarding frequent online shoppers — and should remain in the lead for some time.
In terms of online-only companies, Bartold said he has only rarely been impressed. He cited Amazon and eBay for their loyalty efforts but noted that, on the whole, loyalty programs from pure-play e-tailers have not caught on with customers.
Future Contenders
Although customers may not be familiar with Web-only loyalty programs yet, that does not mean e-tailers have abandoned their attempts to craft successful offerings. Mike Sands, chief marketing officer at Orbitz, told the E-Commerce Times that his company is continually trying to perfect its customer loyalty program.
"We think we're unique in the industry," he said, "and we want customers to feel that way as well. We've made a big investment in customer service and technology, so a loyalty program is a logical addition. It's a proactive approach to service."
Orbitz may buck the trend of weak online loyalty programs, as might other travel sites, Petersen said, noting that customers are used to encountering such programs in the travel sector.
In the future, he added, consumers likely will see a rise in online programs offered by other major offline players, such as credit card companies.
"There's a big rise in participation in programs run by American Express, Visa, and other cards," he said. "These have already come online in some ways since you get points whether you shop online or not, but they can do more with it. I think that's going to be the next wave in loyalty programs on the Internet."
Know Thy Customers
One of the difficulties of running an online loyalty program is that customers are familiar with the intricacies of airline and hotel programs but may be hesitant to participate in similar Internet-only strategies.
"[Loyalty] programs require a level of personalization and customization," Bartoldsaid. "As a company, you have to know a lot about the customer, and that doesn't seem to bother them when you're American Airlines. However, when you're some small site, and you have a lot of information about them right there online, they get nervous."
Trouble also can ensue if online loyalty programs are too intricate or stray too far from the familiar. Those were stumbling blocks for some pure-play loyalty programs, such as Netcentives and Zebrapass, that proliferated in the early days of e-commerce.
Bartold noted that although early online loyalty sites garnered interest and activity, the business model ultimately did not attract enough members to survive. "People didn't like having everything be only online," he said. "They shopped online and got reward points for more online shopping. That wasn't too appealing."
The loyalty programs that are currently solid and those that will dominate in the future will let customers blend online shopping with offline rewards, such as hotel-room discounts or flight coupons, he said.
As Bartold noted: "Blending offline and online fits better with consumer behavior. That's why it's working with the companies that do it."