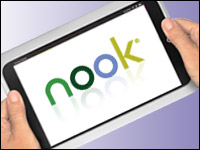 Barnes & Noble finally bit the bullet. The company on Wednesday announced its board of directors had approved a proposal to spin off its Nook e-reader business into a publicly traded company.
Both its print and e-book divisions have been struggling financially for several quarters; it has become conventional wisdom that one way B&N could right its ship might be to spin off its Nook product line or sell it to a private company.
The spinoff will take effect by the end of Barnes & Noble's first fiscal quarter of 2015.
Separately, More Valuable
For Barnes & Noble, the decision must have come down to the hard reasoning that its assets — its retail, textbook and Nook divisions — were worth more separately than united in one entity, Barry Randall, a technology portfolio manager on Covestor, told the E-Commerce Times.
"In theory, it will make it easier to analyze each segment, and it will also make it easier for a suitor to purchase one of the segments without having to disentangle the latter from the other businesses," he said.
However, as the Nook goes to market, the segment's middling valuation soon will become clear if it hasn't already, Randall continued.
The Nook product line, currently in its third generation, is by the tech industry's lights a success, he said. There is also the business case to be made: Barnes & Noble's Nook segment, which comprises both the e-reader hardware and downloadable content, makes up about 10 percent of the company's total revenue.
"But in Barnes & Noble's most recent quarterly results, Nook segment losses remained substantial, despite recent cost-cutting efforts," Randall said. "Moreover, revenue for both the Nook hardware and content declined 20-30 percent year-over-year."
Even its strong tech creds take the device only so far. The product is well regarded, but it doesn't have a compelling competitive advantage, Randall pointed out. "What's more, early specs of the forthcoming Samsung Galaxy Tab 4 Nook indicate that the Nook's prized readability may be compromised by a rather pedestrian Samsung screen resolution."
This could be B&N's best opportunity to sell high and exit the market in a graceful fashion, said Steven D. Charlier, an assistant professor in the School of Business at Quinnipiac University.
"B&N is in a losing battle with Amazon and Apple in the e-reader/tablet space, and while the recent financial data for the division shows some improvement, the long-term outlook is not good," he told the E-Commerce Times.
A Bigger Story
Another likely motivating factor for B&N is that a spinoff could relieve shareholders that have been watching the company flounder, said David Johnson, CEO of Strategic Vision.
"Barnes & Noble's announcement that it is spinning off the Nook division is a smart public relations move to reassure investors that the company is putting together a strategy to get out of the red and be competitive again," he told the E-Commerce Times.
"Nook was a losing venture for Barnes & Noble, and as the losses mounted investors became more concerned about Barnes & Noble as a whole," Johnson observed. "The move reassures investors and gives Barnes & Noble some good news in the financial community."
In truth, the Nook as a brand is not salvageable — at least not when it is positioned as a Kindle competitor, he said. "When we look back, we will probably consider the Nook the Edsel of the e-book readers."