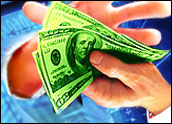 The U.S. Attorney's Office for the Western District of Washington and the Securities and Exchange Commission have lodged criminal and civil enforcement actions against a former senior portfolio manager at Microsoft and his friend, alleging insider trading.
They also accuse the two of planning to use their illegal gains to launch a hedge fund.
Microsoft terminated Brian D. Jorgenson upon learning of the charges.
Mea Culpa
Jorgenson has since gone public with his side of the story, admitting to tipping off his friend, Sean T. Stokke, a day trader, to proprietary information about Microsoft's financials in three incidents over the last 18 months.
Most notably, in the spring of 2012, Jorgenson learned that Microsoft was planning to invest hundreds of millions in Barnes & Noble's Nook division. Stokke gave Jorgenson some US$40,000 from the $200,000 or so he made from the trades, according to Jorgenson.
Both men on Thursday appeared in U.S. District Court in Seattle and were released on their own recognizance.
Jorgenson has apologized for his actions, blaming them on greed and his rationale that members of Congress regularly profited from insider information.
If Congress Jumped Off a Bridge…
"I told myself, 'Members of Congress can do it,'" he reportedly said.
That particular line of reasoning is highly ironic to Mitchell Epner, head of the white collar criminal practice at Wilk Auslander.
"His insider trading allegedly began in April 2012, which is precisely when Congress passed the STOCK Act to bar insider trading by members of Congress and other government employees," Epner told the E-Commerce Times.
This was not a widely discussed issue before the law's passage; it was the publicity surrounding the adoption of the STOCK Act that prompted the press to focus so extensively on allegations of past insider trading by members of Congress and their staff.
"Jorgenson apparently seized upon these stories to justify engaging in his clumsy and self-destructive insider trading," Epner said.
A Long-Standing Sense of Entitlement
Whatever justification he made to himself, Jorgenson felt justified in his actions and entitled to their monetary rewards — and he is hardly an outlier, said Tamar Frankel, a professor at Boston University School of Law and author of the book The Ponzi Scheme Puzzle: A History and Analysis of Con Artists and Victims.
"Habits, whether private or public, are not created in a minute. They take a long time to become 'this is how we do things' and gain the justification of 'others are to blame, including the greedy investors,'" she told the E-Commerce Times.
"If this is where we are now, do not expect the financial and corporate leadership to change their views and beliefs quickly," said Frankel. "It took years to get us where we are. It will take years to change and introduce first shame and then the belief that, 'This we do NOT do here.'"
Microsoft Unscathed
As for Microsoft, it will probably emerge unscathed from this incident, Epner speculated. "The insider trading here was repeated and brazen, and I have no doubt that Jorgenson acted in violation of clear Microsoft policies against tipping."
There is only so much a company can do to prevent insider trading, Epner added. "Any public company — particularly a market giant like Microsoft — has to train its employees that insider trading is a crime that is likely to lead to significant imprisonment, and then trust that employees will not violate their duties."