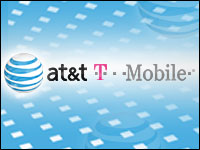 AT&T has decided not to challenge the Federal Communication Commission's objections to its proposed US$39 billion acquisition of T-Mobile. Given the energy, time and resources it clearly put into the effort, the company is likely still licking its wounds, but it will soon have to address the question of what to do next — as will T-Mobile and its parent company Deutsche Telekom.
The proposed deal was seen as the solution to several problems: how AT&T could extend services throughout the U.S., despite its constrained bandwidth; how T-Mobile could survive in a market where it's a distant No. 4; and how Deutsche Telekom, T-Mobile's parent, could finally exit the U.S.
New Questions Pending
The deal may be dead, but the problems it was meant to solve are very much alive.
In certain respects, the companies' positions have worsened. Deutsche Telekom wasted several months as it waited to see how the proposal would play out. Ditto for AT&T, which could have been exploring other alternatives. Instead, it must now pay DT about $4 billion in a breakup fee.
T-Mobile, for its part, is still grappling with the issue of how to compete from its low perch in the market — backed by a reluctant parent to boot.
Sprint Waits on the Sidelines
Indeed, T-Mobile's weakened state opens interesting possibilities for Sprint-Nextel, which had strongly opposed the transaction. There has been talk, for example, of a joint venture or partnership. Other possible partners include the Dish Network.
Or something more permanent than a partnership could be undertaken, suggested Boston University antitrust law professor Keith Hylton.
"It would be hilarious — to everyone but AT&T — if T-Mobile were to sell itself to Sprint, the firm that lobbied hardest to block the deal with AT&T," he told the E-Commerce Times. "It would be a fine illustration of the benefits of lobbying to prevent your rivals from merging."
Sprint would be in a position to pay a very low price for the acquisition, since rival firms could not compete in the bidding process without bringing on another merger challenge, he noted. Sprint would suddenly find that all of the monopolization issues it raised in lobbying against the AT&T acquisition had somehow vanished.
Capacity Issues
As for AT&T and T-Mobile, they are facing serious capacity issues, Chris Koopmans, chief operating officer at Bytemobile, told the E-Commerce Times.
They also must keep their respective tech-savvy user bases happy, which will not be easy, he said.
"AT&T has a large iPhone demographic — very demanding, performance-sensitive users — and a ton of capacity to support," said Koopmans. "They need all the capacity they can get. T-Mobile has a large Android demographic with a heavy young subscriber population driving a lot of network traffic."
In the current market environment, operators win and lose subscribers based on the quality of their data service, he said, and when they can no longer rely on exclusive access to hot devices, "they will have to rely on the performance of their network to carry the day."
A Network Sharing Option
The two operators will have a roaming agreement, "but beyond that, they could consider network sharing of their fourth-generation LTE networks," Azita Arvani of the Arvani Group told the E-Commerce Times. "The big issue for both AT&T and T-Mobile is where they are going to get additional spectrum to properly roll out their next-generation LTE networks."
Verizon has limited the two companies' options by its recent acquisition of spectrum from SpectrumCo, a joint venture between Comcast, Time Warner Cable, and Bright House, she said.
"AT&T will push harder to get the MediaFLO spectrum from Qualcomm, and T-Mobile will seriously consider other spectrum partners, such as Dish Networks," according to Arvani.
However, if they opt for network-sharing with their fourth-generation LTE networks, they could create one LTE network — with one set of costs and spectrum that both operators can use, she pointed out. "Network sharing has been done in Europe, but not so much in the U.S. yet."