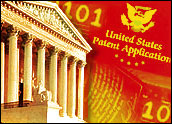 The U.S. Supreme Court is hearing oral arguments Wednesday for a patent case that could impact how manufacturers configure and sell computers overseas, and to what extent U.S. patent laws can be enforced in foreign countries.
Called Microsoft v. AT&T, the software industry is aligning behind Microsoft in this battle, given the far-ranging ramifications it could have on their business practices, Michael Sacksteder, a partner with Fenwick & West, told the E-Commerce Times.
"This law could affect anyone who sells software in foreign markets," he said. "I have seen accounts of companies that are normally at odds with Microsoft rooting for it for this reason."
Patented Here, Configured Overseas
The case revolves around claims that Microsoft Windows infringed on patents held by AT&T. Courts have sided with AT&T on the issue and Microsoft has paid fines for patent infringement on products sold in the United States.
Microsoft, however, claims that it is not infringing on the patents of foreign-assembled computers installed with Windows software.
At one time, U.S. patent laws only applied to activities in the United States. Then in 1972, Congress passed 35 U.S.C. 271(f) to keep companies from shipping components abroad for assembly in order to avoid patent claims, Raymond Van Dyke, a partner with Nixon Peabody, told the E-Commerce Times.
Issues in Dispute
While the law may be clear that companies cannot avoid U.S. patent laws by assembling products overseas, Microsoft's arguments that its operations have not violated patent law do merit examination from the Supreme Court, especially as manufacturing and distribution operations have significantly changed over 35 years.
The equipment assembly then becomes the software assembly now, Van Dyke said.
"The statute includes language involving 'components' 'supplied' abroad. Do the golden disks shipped abroad, including a speech feature that arguably infringes another's patent, satisfy the language of 271(f)?" he questioned.
Microsoft's Viewpoint
Specifically, Microsoft has raised two points, Sacksteder noted. "One is the question of: What is a component? Is it a binary sequence of numbers that lack physical existence — i.e. software?"
Also, in this particular case the foreign manufacturer used a "golden master" disk to copy and then used that to install Windows on the computers.
"The statute requires that the components be supplied from the United States," Sacksteder continued. "Does this scenario — shipping a disk overseas — fall under that part of the law?"
Given the potential damages that software providers could face if the Supreme Court finds for AT&T, the case will be closely watched by all sides.
"With Chief Justice Roberts recusing himself, it will be curious how the Court will rule, perhaps even split," Van Dyke suggested. "With the growing criticism against the extent and reach of patent rights, the Court may clip the extraterritoriality of U.S. patent laws," he speculated.