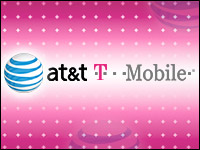 It will keep prices at their current low level. It will hire more people, lots more. It will sell a significant chunk of T-Mobile's stock. If it has to, it will go to court. AT&T, in short, appears ready to jump over whatever hurdles the Department of Justice places before it to win its prize — the acquisition of T-Mobile.
The company was apparently caught completely off guard by the blow DoJ dealt to its proposed US$39 billion merger with T-Mobile this week. The department filed a lawsuit to block AT&T from acquiring T-Mobile, claiming that such a merger would violate antitrust regulations.
It noted, for instance, that AT&T and T-Mobile currently compete head-to-head in 97 of the nation's largest 100 cellular market areas. Were the merger to proceed, there would only be three providers owning 90 percent of the market. Competition in price, quality and innovation would be diminished.
This is not the end of the matter, of course, as even the Justice Department has made clear.
"We apprised them of our serious concerns and, as any party can do, our door is open," Sharis Pozen, acting assistant attorney general for the Anti Trust Division, said at the agency's news conference.
"If they want to resolve those concerns, we can certainly do that," Pozen continued. "Here we filed a lawsuit and we're going to proceed in Court. We'll see what happens next."
Taking Stock
AT&T is apparently not willing to let the merger die and is taking inventory of its options. It did not respond to the E-Commerce Times' request to comment for this story, but according to news accounts, it plans to come back to the Justice Department with a proposal.
Unfortunately for the company, few of those options are palatable, and some are downright ugly. One of the more benign, no doubt, from AT&T's perspective: It could promise to keep T-Mobile's inexpensive price plans on the market.
It could divest T-Mobile assets in specific markets, or it could sell a significant portion of T-Mobile's stock — 25 percent is one number being bandied about.
However, the latter proposal probably wouldn't be effective in the long term, according to N. Venkatraman, a business professor at Boston University, told the E-Commerce Times.
Of course, the final option for AT&T could be battling it out in court.
FCC or Justice?
The situation looks dark for AT&amolT now, said Ryan Radia, an analyst with the Competitive Enterprise Institute, but it could be worse.
The Federal Communications Commission could have wound up being the point agency to derail the merger, he told the E-Commerce Times.
"Oftentimes with these deals, the antitrust agencies stay out of it, while the FCC takes the lead role," noted Radia. "Given that the DoJ has taken the lead, I would assume it will play the primary role of ascertaining the merits of the conditions that AT&T will offer."
What that means is that these conditions will be scrutinized through the lens of antitrust law rather than the public interest standard employed by the FCC, he explained. "Therefore, we are less likely to see completely arbitrary conditions placed on this deal."
The FCC did not respond to the E-Commerce Times' request for comment.
AT&T would rather reach a settlement than engage in a protracted court fight, according to multiple reports citing unnamed sources familiar with the company's thinking on the issue.
The bad news for AT&T is that the merger would molder, perhaps for years, before all the legal issues were settled in court, Radia said.
The good news, in his view, is that AT&T's chances of winning are pretty fair. "The matter will be heard before a federal judge who will apply antitrust doctrine. Many antitrust legal scholars who have examined this deal believe that AT&T has a very strong case."
It has the potential to set an important precedent, said Radia. "You have to realize that the Department of Justice loses in court as much as it wins — at least in antitrust suits."
Before it gets to this option, however, there is one other route AT&T could go.
A Public Argument
One step AT&T hasn't taken — at least not with much fervor — is to make a broad appeal to the public.
"AT&T should come out clean and show how it benefits consumers and how the prices will be lower, as USA is still one of the high-tariff countries in the world for mobile data," Boston University's Venkatraman said.
"Till it convincingly demonstrate that winning value proposition, the merger may be seen as helping shareholders and managers, but not necessarily consumers," he reasoned.
"If I were in AT&T's shoes, I would go straight to the consumers now," agreed Michael Hussey, CEO of PeekYou. "Fight these charges in the public arena."
One argument that might win people over, he told the E-Commerce Times, is a promise to invest heavily in improving its network and capacity.
"There are other countries with better cellphone services that have far fewer mobile options than the U.S.," he said. "A promise to invest more money in the network, as opposed to marketing," would resonate."
Job creation is another argument, although AT&T has already tried that route. Before the Justice Department filed its suit, AT&T had said the merger would allow it to bring 5,000 outsourced jobs back into the U.S.
"AT&T can offer job creation as one overture as it seeks to build out the 4G (LTE) network on a country-wide basis," Venkatraman said. "It is timely, as everyone is focused on jobs, but one that may not be truthfully valid, as T-Mobile could potentially create those jobs."
Go for It
Whatever it takes, AT&T should try, Venkatraman said.
The T-Mobile acquisition would be a great coup for AT&T to get a lead over Verizon now that Apple's iPhone is no longer a differentiator, he said, adding, "AT&T needs this to happen."