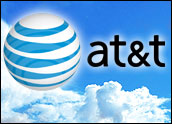 AT&T is expanding its cloud computing product line with a storage play aimed at enterprise users who want to access data via their laptops, smartphones and other Web-accessible devices. Called "Synaptic Storage as a Service AT&T," it is a joint offering with EMC.
Synaptic Storage as a Service gives users access to the AT&T network cloud to store, distribute and retrieve data. Customers can specify their storage criteria through a Web-based customer portal. The service automatically scales storage capacity up or down as needed, and users pay only for the amount they use.
SaaS Bandwagon
The Storage as a Service (SaaS) model has become attractive to vendors. Amazon and Google, for instance, provide Storage as a Service offerings, albeit not usually to the same customer niche that AT&T is targeting with its service.
There is also Mozy, an EMC-based online backup offering fromDecho.
AT&T is distinguishing its service with value-add attributes, Steve Caniano, vice president of hosting and application services at AT&T, told the E-Commerce Times.
"The quality of the service aspect that stems from our network is a differentiator that no one else in the marketplace can offer," he claimed.
At the same time, AT&T is keeping in mind the user's desire for low costs. For instance, the service allows for extended retention of data no longer needed for transactions, but at a lower price point than is typical.
Atmos Platform
The new service differentiates itself in other ways, thanks to the technology that EMC brought to the table.
Specifically, it is based on EMC Atmos, a policy-based information management platform that lets users store, distribute and retrieve data through the Internet or directly from the AT&T network cloud via a virtual private network or other transport service.
Synaptic Storage as a Service is part of AT&T's Synaptic Hosting, a utility computing service with managed networking, security and storage functionality geared toward businesses.
The service, which launched last August, combines technology acquired from USinternetworking (USi) with five "super" IDCs (Internet data centers) in the United States, Europe and Asia.
AT&T has a total of 38 IDCs in its global Internet protocol network. A key feature of its Synaptic Storage as a Service offering is the utility computing platform that uses the AT&T network to manage applications and compute resources on servers, as well as store data.