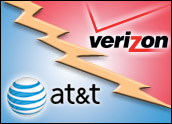 AT&T delivered a respectable set of numbers in its quarterly earnings report on Tuesday. At the same time, its report on Q2 activity revealed how much it still depends on Apple and its devices for its revenues.
First, the numbers: For the quarter ended June 30, 2012, AT&T's consolidated revenues totaled US$31.6 billion, up 0.3 percent versus the year-earlier quarter. Second-quarter 2012 net income totaled $3.9 billion, or $0.66 per diluted share, up from $3.6 billion, or $0.60 per diluted share, in the year-earlier quarter.
Not Too Shabby
Total wireless revenues, which include equipment sales, were up 4.8 percent year over year to $16.4 billion. Wireless service revenues increased 4.3 percent, to $14.8 billion.
AT&T reported its best-ever wireless service margins of 30.3 percent versus 26.9 percent in the year-earlier quarter. It attributed the growth to improved operating efficiencies, fewer handset upgrades, and further revenue gains from its 43 million smartphone subscribers.
The company proudly pointed to other metrics as well: It posted a net increase in total wireless subscribers of 1.3 million in Q2 to reach 105.2 million in service. Its postpaid, prepaid and total churn reached their lowest levels ever — postpaid churn in Q2, for example, was 0.97 percent, compared to 1.15 percent in the same quarter last year and 1.10 percent in the first quarter of 2012. Total churn was 1.18 percent versus 1.43 percent in the second quarter of 2011 and 1.47 percent in the first quarter of 2012.
"These are very respectable results," John Jackson, vice president of research at CCS Insight, told the E-Commerce Times.
In fact, AT&T's performance was especially good considering the macroeconomic and global events that occurred during the quarter, he added, including the troubles in Greece, and growing worries domestically about the so-called fiscal cliff.
Focus on the iPhone
All that said, the quarterly earnings report underscores — yet again — AT&T's reliance on the iPhone. Furthermore, the earnings highlighted a sobering trend: The iPhone as a percentage of AT&T's smartphones sold to contract subscribers is dropping, noted Jackson. Two quarters ago, the iPhone accounted for of 81 percent of such sales. It was 78 percent last quarter, and 72.5 percent for Q2.
"The iPhone is still the dominant device for AT&T, but it is taking a relatively smaller and smaller share," Jackson said.
This is largely attributable to people waiting for the iPhone 5, he added, and indeed AT&T has indicated — in a roundabout way — that it expects to sell far more phones in the second half of the year. It projects 25 million in unit sales for the year, Jackson said. "So far, they have done just over 10 million."
For the most part, there is nothing alarming about the drop, Azita Arvani of the Arvani Group told the E-Commerce Times.
"This is just part of the normal product upgrade cycle, which should be incorporated in future projections," she said.
In fact, a similar drop can be seen with Verizon Wireless, she added, with Verizon declining from 3.2 million units in Q1 to 2.7 million in Q2.
"Sprint will probably show a similar decline when it reports on July 26th," Arvani said.
Reports of lagging iPhone sales are ubiquitous throughout the supply chain channel, Jackson pointed out. At the same time, suppliers are stock,piling relevant components in preparation for the iPhone 5 "for which everyone expects sales to be very robust."
The real story is not the declining number of iPhone sales for AT&T or Verizon or Sprint for that matter, Arvani said. Rather, it is the fact that while AT&T is still the top U.S. iPhone seller, the gap between Verizon and AT&T iPhone sales has been shrinking over the last three quarters.
"We'll wait and see how this plays out," she said, "[how] the iPhone 5 — which is expected to run on LTE networks — will affect the sales across these two operators."