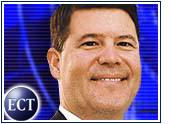 Ariba, Inc. (Nasdaq: ARBA) sank 10 3/16 to76 11/16 Tuesday after Lehman Brothers began coverage of the stock with aneutral rating.
Lehman analyst Patrick Walravens reportedly said Ariba shares, trading at431 times projected earnings, are too expensive at current levels to warranta higher investment rating.
Shares of Ariba are trading below their 52-week high of 183 3/4, but stillwell above their low of 49.
Ariba, a provider of business-to-business (B2B)e-commerce services, reported a loss before charges for the fourth quarterended September 30th of US$1.1 million, or breakeven per share, compared with aloss of $4.6 million, or 3 cents, in the year-earlier quarter. Revenue forthe quarter rose 687 percent from a year earlier to $134.9 million.
Though the Mountain View, California-based company claimed the distinction of being the first B2B company to break even before charges, the company's bottom line was a net loss of$339.34 million, or $1.50 per share, compared with a loss of $9.88 million,or 7 cents, a year earlier.
For the fiscal year, the company saw revenue of $279 million, up 515 percentfrom the prior year, and a loss before charges of $29.5 million, or 15 centsper share.
Chairman and chief executive officer Keith Krach said the results "validate"the company's business strategy. "During the year we increased our customerbase 500 percent and deployed more B2B customers than any competitor," Krachadded.
Ariba said it added 114 customers during the quarter, with Allied Worldwide,Pfizer, Target Corp., American International Group, Inc., Kmart and Honeywelljoining a roster of clients that also includes American Express, Bank ofAmerica and E*Trade.