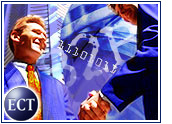 Ariba, Inc. (Nasdaq: ARBA) ended Thursday up 4 3/8at 62 1/4, erasing an early decline sparked by news of a new chieffinancial officer and an analyst downgrade.
The Mountain View, California-based business-to-business (B2B) e-commerce companysaid Robert M. Calderoni, former CFO of Avery Dennison Corp., will succeedEdward P. Kinsey, who is retiring. Kinsey, one of Ariba's founders, willstay on to assist with the transition.
Before joining Avery Dennison in 1997, Calderoni served as vice president offinance at IBM. He has also served as senior vice president of finance andcontroller of Apple Computer.
Ariba chairman and chief executive officer Keith Krach said Calderoni's"proven track record, executive leadership and strong management skills infinance, global operations, and strategy will ensure Ariba continues on itspath of successful execution."
Noted Calderoni, "Ariba's leadership position in the B2B market is enviable.The company's business model and success in delivering bottom-line resultsto customers speaks volumes."
Analysts had mixed reactions to the news. Prudential Securities reportedlydowngraded Ariba to accumulate from strong buy, while at Robertson Stephens,analyst Eric Upin said the transition "introduces a new element of executionrisk in an increasingly more challenging environment."
"Although we remain confident in the company's near-term prospects, webelieve the company increasingly faces a set of market-wide andcompany-specific risks that are new to the Ariba story," Upin wrote in aresearch note. A slowdown in software spending and online marketplaces and"significant dot-com exposure" among customers, along with the managementchange, could "weigh heavily on the stock over the near term."
Added Upin, "While it may take several months for these risks to play out, we continueto believe Ariba is extremely well positioned to be a leading B2B playerover the long run."
First Union Securities, meanwhile, repeated a buy recommendation on Ariba,saying the company's results "continue to demonstrate the tremendous demandfor e-business platforms and the strong sense of urgency for corporations ofall sizes to address their e-business initiatives."
However, the firm said it might revise its current price target of 175 inlight of "recent volatility in the software group."
Ariba recorded revenue of US$134.9 million for the fourth quarter endedSeptember 30th, and posted a loss before non-operating charges of $1.1million, or breakeven per share.