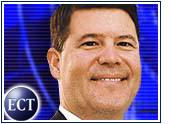 Business-to-business (B2B) software maker Ariba, Inc. (Nasdaq: ARBA) reported surprisingly strong results for the quarter ended June 30th, fueled by a number of major agreements signed in recent months.
Revenue for the third fiscal quarter rose 578 percent from a year earlier to $80.7 million (US$). The company posted a loss before charges of $11.3 million, or 5 cents per share, compared with a loss of $6.0 million, or 11 cents, in the same quarter last year. Analysts were expecting the company to lose 8 cents per share in the latest quarter.
"It was just a knockout quarter," Robert Johnson, an analyst at ABN Amro, told the E-Commerce Times.
B2B a 'Real Market'
Ariba's results come on the heels of a strong quarterly report from Internet bellwether Yahoo! Inc. (Nasdaq: YHOO), providing evidence that business continues to boom for some e-commerce companies, even as many fail.
"This is bullish for the whole B2B sector," said Johnson. "This will assure investors that B2B is a real market, with real money" being spent, he said.
Online Exchanges Boom
Ariba makes the software that powers online e-commerce exchanges among businesses. Companies in industries ranging from computers to commodities have been flocking together to buy, sell and trade products and services over the Internet, aiming to speed transactions and cut costs.
Ariba signed more than 100 new agreements during the quarter, including major deals with Bank of America, BMW, ABN Amro, Arthur Andersen and Texaco. The company also announced plans to acquire SupplierMarket.com, a privately held online marketplace, to help expand its offerings.
Ariba has also teamed with IBM (NYSE: IBM) and i2 Technologies, Inc. (Nasdaq: ITWO) to build online exchanges. The team recently won a contract to connect a group of retailers, including Kmart Corp., Target Corp., Safeway, Inc. and the UK's Marks & Spencer Plc, the Wall Street Journal reported.
Existing Clients Add to Product Lineup
Though the quarter's strength was mainly due to revenue from new customers and new deals, many existing clients are opting to add to their software packages once they see how well they work, Johnson noted.
"That's beginning to be an interesting part of [Ariba's] business," he said. "This quarter, it was just less than 10 percent of licensing revenue," but "what's interesting is the opportunity going forward," he added. "It's intriguing to get a little peek at how exciting things will be in the future."
Johnson expects Ariba to be profitable by September of next year, though he said the company has a "good shot" of seeing black ink by June 2001.
"Ariba showed some very good revenue growth," Johnson added. "They've got clear roadmaps to profitability."