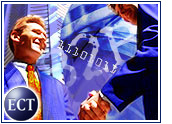 Ariba, Inc. (Nasdaq: ARBA) rose 1/2 to 617/16 Monday after the company said Sprint PCS (NYSE: PCS) has begun usingits business-to-business (B2B) e-commerce platform for buying supplies andservices.
Sprint PCS, a Kansas City, Missouri-based provider of digital telephoneservices, is using the Ariba Buyer to speed purchases for its networkoperations, sales and marketing offices, distribution centers, and corporateoffices worldwide, Ariba said.
Sprint has been using Ariba B2B services since May, and has placed more thanUS$500,000 worth of orders to its suppliers over the system. In coming months,the company plans to "roll out the solution to thousands more users," saidAriba vice president John Magner.
According to Ariba, the Buyer software gives customers access to more than 30,000suppliers worldwide through the Ariba Commerce Network.
The company, based in Mountain View, California, last week named a new chieffinancial officer, Robert M. Calderoni. A former CFO of Avery DennisonCorp., Calderoni will succeed the retiring Edward P. Kinsey.
Ariba recorded revenue of $134.9 million for the fourth quarter endedSeptember 30th, and posted a loss before non-operating charges of $1.1million, or breakeven per share. The company claimed the distinction ofbeing the first B2B provider to break even — albeit before charges — in afiscal quarter.
After all charges, however, the company posted a net loss of $339.34million, or $1.50 per share, compared with a loss of $9.88 million, or 7cents, a year earlier.
Ariba said it added 114 customers during the quarter, with Allied Worldwide,Pfizer, Target Corp., American International Group, Inc., Kmart, and Honeywelljoining a roster of clients that also includes American Express, Bank ofAmerica and E*Trade.
Company shares have nevertheless been on a slide in recent weeks. InSeptember, the stock traded above 160.