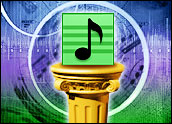 Digital music has been around for years, but the legitimate online musicindustry did not attract a critical mass of consumers until Apple's iTunes Music Store launched. In fact, expectations were so low that Apple wooed record labels to license their music to iTunes by promising there would be more than 1 million downloads within the first six months. The company reached that mark by the end of the first week.
Since then, Apple has spiffed up iTunes by releasing new versions of its iPod digital music player, making iTunes available to Windows users and inking deals with industry heavyweights, such as AOL. Chris Bell, director of product marketing for iTunes, talked with the E-Commerce Times about how Apple has always paid attention to music — and why it always will.
When did Apple first start planning its iTunes initiative?
Chris Bell: Apple has had a digital music strategy for some time, even going back to the original Macintosh. That was the first computer that had sound included, after all. Since then, we've seen Macs used for years by professionals in the recording industry. I don't think there's any music made today that wasn't touched by a Mac at some point. So, music has been part of our culture for 20 years, and iTunes just feels like a natural direction for us to take.
Was the iPod originally conceived of as part of the larger iTunes strategy, or did its role in that strategy evolve after its release?
Bell: The iPod and iTunes have always [gone] hand in glove. When we released the iPod, we knew that iTunes would be a companion to it, but we wanted to wait before releasing it. At the time, there were a number of failed attempts at online music subscription services and mini-sites, and we waited until we could do it right and have it work seamlessly. We were ready last April, so we launched it then, and I think we've seen why it was worth the wait.
In terms of where we stand compared to the other sites that were out before us, we think people are voting with their wallets.
What were some of the challenges in building iTunes and the music store?
Bell: It was a big project, so there were many components to it, which could be a challenge. However, we thought of what we were doing as less of a challenge and more of an opportunity to build something that would be important for digital music.
That said, it's not trivial to build such a great infrastructure. It requires an incredible back end and software, and it required us to leverage all corners of the operation. We wanted to have QuickTime movie trailers, and an online commerce component, and everything else you see in iTunes now. And we had to put the pieces together in a way that the customer didn't see any of them, that they would just see a seamless application that was easy to use. It was an enormous amount of work.
Tell me about the experience of negotiating licensing terms with record labels. At the time, no one had ever achieved such a favorable set of terms, from DRM to copying allowances to song pricing. How did Apple do it?
Bell: Of course we can't discuss the specifics of the agreements we made, or the terms, but I can tell you that there was an enormous credibility factor that worked in our favor. Steve Jobs sat down with the heads of the studios and told them what the future of digital music could look like. We already had credibility in the industry because of our popularity with musicians and producers, and the iPod was already in the marketplace, and they could see how well it was selling. We were able to educate the music industry and negotiate with them because they realized that making the shift to digital music was the right thing to do for customers.
How did you know when the record labels were fully on board with what you were doing?
Bell: When we talked to them about launching iTunes, they all said to us that they would consider it to be an experiment. It was a groundbreaking project, so we didn't have any historical data as to how we thought it might do. The labels told us that if we hit 1 million downloads in the first six months, they'd consider the experiment to be a success.
When we came back to them after a week and said, "Okay, we've got your million," they were very surprised. It was a pleasant surprise for all of us.
With the success of digital music, both by subscription and download, do you foresee more competition in the space? How will more players affect Apple?
Bell: Digital music is definitely a hot area right now, so I'm sure that more people are going to get into the market. That may force some that are currently in it to get out. But it's not a trivial endeavor to build a service. It's not easy. You have to be very committed.
I think we're in a unique situation, because a key part of our strategy is to drive sales of iPod, and we see that in tandem with the music store. The music store has a positive margin that will grow exponentially, but if that was our only story, we might need to be worried about competition.
As it is, with the iPod, we have a different, and very solid, offering that other competitors can't match. This is an arena in which only the strong will survive, and we're very strong.
How do you see iTunes in comparison to current competitors?
Bell: I think as other companies work on the first versions of their music stores, we're already on to our second and third generation of innovation. We've passed the initial phase, and we've moved into finding new ways to collaborate with artists, forge deals with other companies and develop relationships with independent labels. Now that we've established the gold standard for ease of use, our goal is to grow the catalog and expose customers to even more music. We think there's still a great opportunity for growth in this market.
Apple announced a major deal with HP to create an HP-branded iPod, and put iTunes onto HP's Media Center products. What other deals have been important for expanding iTunes' reach?
Bell: There have been three really strategic deals, with HP being one of them. Another one is the alliance we've made with AOL, where every single AOL customer will be able to use their screen name to set up an iTunes account. AOL music properties also link directly to iTunes for download.
The other deal has been with Pepsi, which will come to fruition on February 1st. It'll be officially announced during the Super Bowl that there are 100 million free songs on iTunes under Pepsi bottlecaps. We think with these three deals, iTunes will definitely reach more people, and they'll really take iTunes to a whole new level.