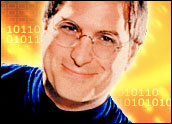 Apple is angling to reinvent the PC world 20 years after the arrival of the first Macintosh. Toward that goal, company CEO Steve Jobs has announced GarageBand, the latest addition to the iLife product family, and a 4-GB mini iPod that sports sherbet colors. However, price may be an issue: At a relatively steep US$249, the mini iPod costs just $50 less than Apple's 15-GB iPod.
To kick off his keynote at Macworld Conference & Expo in San Francisco, which was Webcast to 60,000 people in more than 100 countries, Jobs screened Apple's seminal Super Bowl ad with a minor digitized addition: The woman wielding a hammer had an iPod clipped to her shorts.
"It's going to be a great Mac year, [and we will] announce throughout the year things we think you'll love," Jobs said.
App Upgrades
At the beginning of his keynote, Jobs announced that the transition to Mac OS X has been completed. Already, he said, 9.3 million Apple users — approximately 40 percent of the company's installed base — have adopted the Unix-based OS, and the company predicts it will cross the 10 million-user barrier in the upcoming quarter.
Joking that Panther is so advanced that "Microsoft is copying us again," Jobs said there are now more than 10,000 native apps for OS X, and Microsoft's latest iteration of Office for Mac is due this spring.
Xserve for Everybody
Jobs also took time to dwell on Apple's enterprise efforts. After describing the Virginia Tech supercomputer cluster, which used 1,100 dual-processor Power Mac G5s to create the third-fastest supercomputer in the world for only US$5.2 million, he announced the latest version of Apple's 1U server for enterprises, the Xserve G5.
The new model has two air vents in front, a slot-loaded optical drive and the G5 chip, which offers 64-bit processing power. The starter model with a single 2-GHz G5 processor will retail for $2,999, while a similar model with a dual 2-GHz processor will retail for $3,999. Those machines will start shipping in February. All models will come with an unlimited client license, just as Linux does, Jobs noted.
In addition, Apple has updated its companion Xserve RAID storage system, which can be used with Windows and Linux servers as well as the Xserve. A 3.5-TB model with a 3U form factor will cost $10,999. That price equates to a little more than $3.15 per GB — one-third the cost of the comparable Dell EMC CX200.
iMusic Galore
Jobs then moved on to iTunes, saying that since Apple introduced the iTunes Music Store (iTMS), it has sold 30 million songs and is nearing 1.9 million downloads per week. According to Nielsen//NetRatings, iTMS has 70 percent of all legal music downloads.
"It feels great to get above 5 percent, doesn't it?" Jobs quipped.
However, iTMS numbers were the least of Apple's digital music announcements. The company's new version of its iLife applications — "the Microsoft Office for the rest of your life," Jobs said — includes a music creation program called GarageBand, which Jobs described as a pro music tool for everyone.
With recording artist John Mayer on hand to help, Jobs demonstrated the new app's features. GarageBand can record and mix up to 64 tracks, plus it provides access to more than 50 software instruments using a USB or FireWire MIDI keyboard, 1,000 professional loops, and a set of guitar amps in which to record.
The iLife package will become available January 16th and will sell for $49. However, it will be included for free with new Macs.
Mini iPod, Maxi Price?
Jobs' final announcement was the well-rumored version of a low-cost iPod, the iPod Mini. The new device comes with a 4-GB drive that can hold 1,000 songs. It works with Mac and Windows and is available in white, gold, blue, pink or green.
Perhaps most impressive is the Mini iPod's size: It is approximately as big as a business card and only a half-inch thick. The device also comes with both USB 2 and FireWire cables and a belt clip.
Jobs is positioning the Mini iPod to compete directly with Flash-based MP3 players. However, its $249 retail price seems rather high, given that the lowest-end regular iPod now has a 15-GB hard drive and costs only $50 more.