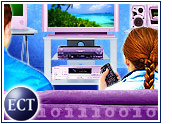 As Microsoft's long-planned strategy to transform the PC from a work device into an entertainment hub takes shape, the company intends to use this week's Consumer Electronics Show in Las Vegas to ratchet up its efforts to capture more of the billions of dollars spent on home entertainment.
According to published reports, Microsoft plans to unveil a new line of PC-as-media-center products along with partner Intel at the trade show. It also will trot out a line of devices aimed at one of the few electronics markets it does not already dominate: portable music players.
Specifically, Intel and Microsoft plan to announce software and devices that make it easier to use personal computers to play movies and music and to alter, store and produce digital photography and video. Some of those products likely will leverage Microsoft's set-top box technology, which is being tested by cable television providers in some parts of the United States.
Almost There
Although not yet ready for market, prototypes of Microsoft's Portable Media Centers, which will be made by Samsung, Viewsonic and others, will be on display at the show. According to analysts, Microsoft believes it can repeat the relative success of its Tablet PC push, in which it lured big-name device makers to design products for Microsoft software.
Microsoft showed off early prototypes at the same conference a year ago, only to miss its target date of having the devices on the market in time for the 2003 holiday season. A launch before summer now seems likely.
Room To Grow
In terms of portable music players, manufacturers now have the advantage of seeing what already works in the marketplace, Forrester Research analyst Josh Bernoff told the E-Commerce Times.
"Apple has shown what consumers want: ease-of-use, portability and a little style and flash," Bernoff said. "There's a road map out there that you can follow if you're going to enter the market. And that makes it easier, at least in theory, to improve on what's already out there."
More important may be whether Microsoft can use its massive reach to strike better deals with record labels, enabling it to offer consumers better download deals. "After a while, there will be little difference in the sites, and digital music will become a commodity, so the site that can do it most efficiently will win in the end," Bernoff added.
Worm in the Apple
Apple has its own hands full this week. Its Macworld Conference & Expo, where the company plans to spotlight its follow-up to the success of iTunes and iPod, is in danger of being overshadowed by threats of lawsuits and protests by unhappy users of some of the company's products.
Meanwhile, the computer industry will be as well represented at the electronics trade show as traditional electronics makers. Early sales returns suggest devices helped lift some computer makers' bottom line during the holiday season — and companies may be making a play to extend those gains. For example, Dell Computer has announced it plans to offer a zero-percent financing deal for consumers, a move analysts view as an attempt to keep holiday-season momentum alive into the new year.