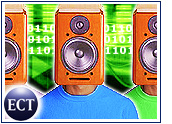 Hewlett-Packard plans to launch a music download service and to attack the consumer electronics market with its own music player and a line of high-end flat-panel televisions.
HP executives indicated the company plans to use the January Consumer Electronics trade show in Las Vegas as a venue for launching the new initiatives, though they said that time frame may change.
The music service reportedly will be run by a third party but will carry the HP name. The goal is to tie it in with sales of a new handheld music player that also will be made available in the first quarter.
Taken together, the moves amount to competitive responses to Apple, whose own music download store is seen as the pace-setter among a growing legion of players, and Gateway, which was the first computer maker to dive headlong into the market for home electronics and which has seen sales of plasma televisions quickly become a key part of its revenue mix.
Natural Step
According to published reports, HP vice president Chris Morgan said further forays into the entertainment arena make sense for the company and reflect a belief that entertainment hardware will be among next year's hottest sellers.
Before HP purchased Compaq, that company sold a line of audio players, but HP shelved those and other Compaq products after the merger closed.
Now, HP appears poised to team with a partner for the music-download effort, a move that will help it avoid the possibly lengthy and costly process of licensing music directly from record labels.
Each music-download competitor has unique strengths. For example, Apple benefited from being first to market — it recently reported sales of an estimated 17 million songs through its iTunes Music Store since the service's April launch — and from its ability to leverage the base of more than 1.4 million iPod players in circulation. Microsoft, which reportedly will launch its own service in early 2004, has the advantage of controlling the vast majority of PC desktops.
Elbows Flying
For HP, standing out in an already crowded market may be the biggest challenge, Forrester Research analyst Josh Bernoff said. In addition to Microsoft's impending arrival in the market, Wal-Mart is preparing its own service and will be able to use its massive buying power to compete with just about anyone on price.
"For HP, winning the market isn't necessarily the goal," Bernoff told the E-Commerce Times. "If they sell a few hundred thousand handheld players worldwide, they'll probably be happy."
HP's consumer electronics push, which began earlier this year, serves as an opportunity for the company to reap higher profit margins than it does on computer products, particularly when the electronics are sold directly to consumers.
"They may also see a music download store as something they have to offer in order to have a complete package of entertainment products," Bernoff said.