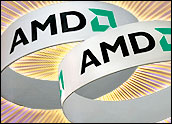 Advanced Micro Devices has received a welcome financial boost — a US$622 million infusion of capital from Mubadala Development, a wholly state-owned enterprise of Abu Dhabi.
As part of the transaction, Mubadala received 49 million shares at a price of $12.70 per share. After reimbursing Mubadala $14.6 million in expenses, AMD received roughly $608 million.
Posting Losses
AMD can use the cash: The announcement follows mixed earnings results posted last month, with profits dented by $5.4 billion in costs relating to the acquisition of graphics chipmaker ATI. The company registered a loss of $396 million compared with a profit of $121 million in the year-ago quarter.
AMD plans to use proceeds from the investment to support new research and development, manufacturing and product innovations, which could strengthen its hand against archrival Intel.
AMD has been struggling since Intel launched its quad-core projects last year, and it hopes to recoup some of the ground lost through its new Opteron quad-core chips.
Initial Reaction
If Wall Street's reaction to the announcement is any indication, it may be that the investment is not enough to accomplish AMD's goals.
The company's shares fell despite the news, down 24 cents to $12.46 late Friday.
"While the cash is much needed and will help the company's balance sheet in the short term, the long-term problems remain the same," Fred Ruffy, analyst with the investor education firm Optionetics, told the E-Commerce Times.
"Namely, AMD is losing money," he said. "The company has posted losses during the past four quarters and is expected to lose money for the fiscal years 2007 and 2008."
Issuing the 49 million new shares will dilute futures earnings, Ruffy pointed out.
UAE's Role in US Tech
Beyond the competitive implications for AMD, the investment illustrates the growing importance of the United Arab Emirates in the U.S. tech sector. The country has been focusing — very successfully — on diversifying its economy for several years, with tech being one of its targets.
It has built out its outsourcing bona fides and developed several industrial parks. As a result, it is now viewed as a viable regional center for IT support operations.
Inward portfolio investment into the U.S. economy appears to be its latest maneuver toward establishing credibility in this space.