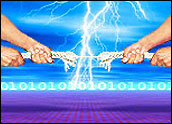 Garmin, the No. 1 maker of portable navigation systems, said it will drop out of what had become a bidding war for the right to acquire the last independent producer of the digital maps that power GPS (global positioning system) devices.
Garmin offered US$3.3 billion to acquire Tele Atlas, only to have its main rival, TomTom, top it with an offer worth 2.9 billion euros, or $4.2 billion.
It was widely expected that Garmin would make another offer, but the company announced Friday it will drop its bid for the company and instead extend an existing partnership with the other main producer of digital maps — Navteq.
Creating Value
Navteq is in the process of being acquired by Nokia, which struck a deal to purchase it in October for $8.1 billion.
Garmin signed a six-year extension to a deal that gives it access to Navteq's digital base maps, it said, extending an existing agreement through 2015. The deal also gives Garmin the right to extend the partnership by another four years.
The specific financial terms of the deal were not disclosed.
"We believe the outcome creates the best value for Garmin, our customers and stakeholders," said Garmin CEO Min Kao. The new deal "ensures the availability of quality mapping data for our customers, and provides a basis for enhanced cooperation."
Garmin shares soared on the news, rising more than 14 percent in morning trading Friday to $96. TomTom shares rose and Tele Atlas shares fell in European trading.
Strange Bedfellows
Garmin and TomTom sought Tele Atlas to ensure access to mapping data for their own systems and as a way of diversifying their revenue streams to rely less on hardware sales by enabling them to sell raw or enhanced map data to other GPS device makers.
TomTom had already acquired a 28 percent stake in Tele Atlas, a fact that complicated the bidding from Garmin's point of view. At one point, speculation ramped up about a possible joint venture between the two being formed to own the map maker, but neither company ever confirmed such talks took place.
The device makers are gearing up for a new wave of competition from electronics makers such as Sony — which have entered the market with lower-cost devices — and handset and smartphone makers, which are building navigation into their phones.
Garmin did the right thing by bailing, saying the acquisition "would have ended up being expensive and, by itself, doesn't improve their chances against competition from wireless devices," Banc of America analyst Jairam Nathan said in a research note.
A Natural Outgrowth
On the other hand, the quest for acquisitions is a natural outgrowth of the rapid current and future growth for GPS devices, which are expected to be among the most sought-after gift this holiday season, Canalys Principal Analyst Chris Jones told the E-Commerce Times.
Garmin has invested heavily already to buy up European distributors and other partners to beef up its presence in that market, where TomTom is still the leader, and both companies are preparing to tackle emerging market opportunities, Jones said.
Garmin alone expects to ship 10 million units this year, Jones noted, and the company recently overtook TomTom for the global market share lead for the first time based on the strength of its U.S. sales.
Additional acquisition activity can't be ruled out, Jones added. Though there are no other options for digital map makers to be bought, there are several smaller GPS device makers who might be targeted to help build out a company's footprint.
"Even with the coming competition from smartphones and new entrants into the space, there's still plenty of growth ahead for the market," he said.
Revenue from GPS devices has more than tripled for the first nine months of 2007 to $1.7 billion, compared with $486 million for the same time frame in 2006, according to recently reported research from NPD Group.
ABCs of GPS
GPS units are expected to be a top-selling electronics item this holiday season, likely taking second place only to flat-screen high-definition TVs, said Yankee Group analyst Josh Martin.
Sales will be driven in part by price reductions and new, lower-end models from several vendors, Martin told the E-Commerce Times.
"The market is still young enough to have room for new players to come in and compete on features and on price," Martin added.
Meanwhile, Google and others are eager to move their own mapping technologies onto mobile devices to unlock what is believed to be substantial advertising revenue to be gained in that arena. "The technology is still very new as well and is evolving rapidly," Martin said.