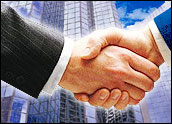 GPS (Global Positioning System)-enabled device makers Garmin and TomTom have reached an agreement to settle a slew of intellectual property lawsuits between the companies.
The terms of the deal were not disclosed. The agreement settles suits pending in the UK and the Netherlands — where TomTom is based — and U.S. cases in Texas and Wisconsin courts.
The two companies have feuded for some time over the ownership of various parts of the technology that makes portable GPS devices possible.
The Claims
Garmin first sued TomTom in early 2006, just as the Amsterdam, Netherlands, company — whose products have performed well in the European market — began to make an aggressive push into the U.S. At the time, Garmin claimed TomTom has infringed on five of its patents relating to ease-of-use features and the inner workings of its in-car devices, such as how the devices decide which streets to show on a map display. TomTom promptly countersued with a claim that Garmin had infringed on three of its patents.
Both companies filed suits and counter-claims in the other jurisdictions later that year, with TomTom claiming in a suit filed in The Hague in October 2006 that Garmin had copied its user interface. The first of the cases was scheduled to go to trail in February.
Garmin shares shot up briefly on the news of the settlement, rising as high as US$88.73 in early trading, but by midday had settled back to be up just fractionally at US$85.79.
New Wars?
The lawsuits were seen as an ill-time distraction for both companies. They come at a time when the GPS market is growing rapidly and reaching critical mass in many developed markets.
Earlier this year, Garmin overtook TomTom for the global market share lead in delivering GPS systems, shipping 1.85 million units in the second quarter, a 25 percent global market share, according to research firm Canalys.
TomTom was close behind, with 1.81 million GPS systems shipped, a market share of 24 percent. Those two were far ahead of the rest of the pack, with the top five rounded out by Mio Technology, Magellan and Navman. In Europe, TomTom has 30 percent of the market and Garmin about 17 percent. Garmin has long led in the U.S. with more than 50 percent market share.
With handheld devices, smartphones with GPS capabilities and built-in auto systems, GPS navigation is one of the most "dynamic and fast-growing parts of the high-tech industry today," Canalys Principal Analyst Chris Jones told the E-Commerce Times.
The settlement may enable both companies to spend more resources and attention on another head-to-head battle — the fight for the right to acquire digital map publisher Tele Atlas.
TomTom has a standing offer of 2.9 billion euros ($4.3 billion) out for Tele Atlas, which it made after Garmin tried to acquire the company. Garmin said it is still reviewing the latest offer for Tele Atlas before deciding whether to make a counter-offer.
'Untapped Potential'
Tele Atlas is the last remaining independent publisher of the digital maps that power GPS systems following Nokia's purchase last month of Navteq in a deal worth $8.1 billion.
"Given the current market growth, the huge untapped potential, and the number of players vying for a share, you can understand why there has been so much merger and acquisition activity and interest in this business recently," Jones said.
Garmin has been using its large size and its high stock price to enable it to grow through acquisition, buying distributors and other complementary pieces in Europe over the past year. Both companies are likely eager to avoid having Tele Atlas fall into the hands of its rival, said American Technology Research analyst Rob Sanderson.
The final price may go up substantially beyond where it stands now, Sanderson told the E-Commerce Times. "Whoever controls the company will have eager customers in handset makers that don't want to send their money to a Nokia subsidiary," he added.
In the future, the dedicated GPS device makers will likely face much more stringent competition from smartphone makers. Many of those devices are already shipping with navigation functionality, though the small screens and other technical drawbacks may hamper market adoption for the time being. More vivid displays, such as the one on the iPhone, may help all-in-one devices start to grab market share away from navigation-only units.
More near-term, Sony and other electronics specialists are rolling out their own devices, raising the prospect of the devices becoming commoditized as competition drive down prices.