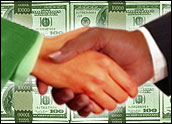 In a move designed to bolster its offerings in the mobile market, Qualcomm will acquire mobile banking provider Firethorn Holdings for US$210 million.
The acquisition is intended to help financial institutions promote consumer adoption of mobile banking services, Qualcomm said, such as the ability to view account balances and history, pay bills and transfer money by cell phone.
Firethorn's employees will remain in Atlanta, led by current CEO Tripp Rackley, with oversight from Len Lauer, Qualcomm's executive vice president and group president. The acquisition is expected to close within 30 days.
Focus on M-Commerce
San Diego-based Qualcomm develops and delivers digital wireless communications products and services based on code division multiple access (CDMA) and other advanced technologies.
Firethorn's expertise in financial services and telecommunications, along with its commercially deployed platform and early market leadership in mobile banking, will serve as a powerful complement to Qualcomm's strength in enabling wireless services across networks and devices, Qualcomm said.
Critical Links
"The acquisition solidifies Qualcomm's commitment to the emerging m-commerce marketplace and builds upon a foundation established by Qualcomm Enterprise Services, a business unit focused on providing integrated wireless systems and services to businesses around the world," Lauer explained.
Founded in 2001, Firethorn links financial institutions and wireless operators through a unified, secure and scalable technology platform that seamlessly extends full-service banking capabilities to consumers. Firethorn's financial institution partners include Wachovia, SunTrust Bank, Regions Financial, BancorpSouth and Synovus, among others.
As a result of the acquisition, Qualcomm expects approximately $0.02 dilution to pro forma earnings per share in its fiscal year ending September 2008 and a neutral impact on fiscal year 2009 earnings per share.
Its stock rose $2.44, or 6.2 percent, to $41.60 in Wednesday trading.
Global Reach
"Banks are always worried when dealing with a small company," Shiv Bakhshi, director of mobility research at IDC, told the E-Commerce Times. "When Firethorn is part of Qualcomm, the financial institutions can be assured this company is not going away — it will be very reassuring."
As a small startup, Firethorn has also had to focus primarily on the U.S. market, but its acquisition by Qualcomm will provide "the global reach and legitimacy they need," Bakhshi added.
Finally, Qualcomm's intellectual horsepower will also benefit Firethorn, as will its Binary Runtime Environment for Wireless (BREW) development platform, Bakhshi added.
Growing Area
For Qualcomm's part, the acquisition of Firethorn will give the company a strong position in what's likely to be a high-growth area, Allyn Hall, director of wireless for In-Stat, told the E-Commerce Times.
"Mobile banking is one of those areas that's probably going to become very big if people in the United States can work through standards like they have in Japan," Hall said. Such standards could pave the way to the next world of mobile payment, in which consumers use cell phones instead of credit cards, he added.
Qualcomm also has a good track record for making successful acquisitions based on patent portfolio and market position, Hall noted.
Key Strengths
Firethorn also focuses on an area particularly critical to the success of mobile banking, Ira Brodsky, president of Datacomm Research, told the E-Commerce Times.
Typically, mobile commerce can be conducted in two different ways, he noted. The first is handled by the cellular carrier, and focuses on small micropayments in which the carrier is very much involved, he explained.
"To turn the mobile phone into a versatile payment platform, however, you need a bigger infrastructure effort," he noted.
Brodsky's company has done several studies on mobile banking, and "one of the No. 1 issues that comes up is the back-end, infrastructure support and links to financial institutions, credit card companies and the like," Brodsky explained. "Firethorn specializes in making those connections."
Hardware Security
Security is another critical factor in the mobile commerce environment, and "the most secure thing is to do it through hardware," Brodsky noted.
"If, like Qualcomm, you're the chipmaker working with people on the back end, you can put something right into the hardware that can't be copied," he pointed out. "That, and wanting to get involved in the infrastructure, is probably why Qualcomm is buying Firethorn."