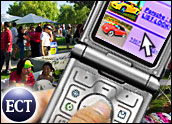 Originally established as part of a series of the global system for mobile communications standards in 1985, short message service, or SMS, has come to play a pivotal role not only in the evolution of personal mobile communications but in the development of m-commerce as well.
In 2006, SMS — also known as "text-messaging" — accounted for a large majority of total non-voice mobile service revenues worldwide, according to a Research and Markets April report.
"Of the various data services available, while attracting none of the glamor as a leading product in most [multiple network operator] service portfolios, SMS actually accounts for approximately 75 to 80 percent of non-voice service revenues worldwide," the company said.
"Mobile transactions such as SMS and Premium SMS are the fabric of mobile business," according to