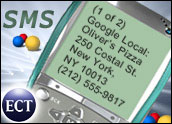 Which mobile marketing technology is most effective? Is it short message service (SMS), or instant dialing? Evidence is now emerging that can help advertising agencies — and brand marketers — determine which direct marketing technology is best for persuading consumers.
It may be too early to tell whether SMS or IM will win consumers' and marketers' hearts, but I am willing to agree that we're starting to get a picture of the emerging marketplace.
A new study released last week by Mediamark Research Inc. (MRI) and Zoove Corp. has plenty of details that will be shaping strategy for mobile marketers for years to come.
The study — recently conducted in 18 locations across 15 states — tests the public's awareness of mobile marketing campaigns using different response technologies, like SMS short codes and Zoove's "StarStar Dialing."
Dial Now
So-called "StarStar Dialing" enables consumers to directly access information on the products and services they want via any mobile phone by simply dialing "**" and a code unique to the products and services, without activating a text or wireless Internet application.
This study — and this is somewhat intuitive — has found that mobile phone users find "StarStar" calling to be a simpler, easier tool than SMS text-to-number Short Codes. "Participants clearly prefer the calling technique," according to an executive summary of the product, provided to the E-Commerce Times.
Here's how the study was conducted. Working with their own mobile phones, respondents were asked to respond to print, radio and television advertising promotion requests using SMS short codes. That is somewhat challenging for mobile phone users, because it requires them to remember a numeric string while on the go. Fewer than half of the respondents could successfully complete the SMS short code task using their own phone, the study showed.
Overall, 47 percent were able to do so, with print enjoying the most success, at 45.2 percent, and radio the least, at 42.1 percent.
Complex Task
Given the complexity of the task, it's not surprising that the print ads enjoy the highest success rate — print provides a handy, permanent reference.
To test the "StarStar" call technology, consumers were given a new mobile phone enabled with the service. After familiarizing themselves with the phone, respondents were asked to respond to a series of print, radio and television promotions using the protocol.
Most interestingly, 90.8 percent of participants, using a new mobile phone to test a new function, successfully responded using the call number — nearly double the incidence of the SMS users.
The survey showed that younger consumers are likely to be more familiar with the functionality of their mobile phone, and what is familiar tends to be preferred. The majority of those surveyed preferred the "StarStar" technology for responding to ads.
With zip-to-area code matching, local information can be sent to "StarStar" call users, Derek Brookmeyer, a spokesperson for Zoove, tells the E-Commerce Times. Respondent zip code and area code replies were compared with three zip code and area code databases. "Where there was agreement between the respondent information and the information in any of the databases it was considered a match. If there was no agreement with any of the databases it did not match," he said.
Early Stage
Now, let's not forget that this is early stage information. No one is using the "StarStar" technology in a big way commercially just yet. We're at the testing stage of the technology.
I would give SMS and IM a good chance to get their act together and compete with this new technology, even though the market research, probably correctly, indicates this will be a major challenge.
Why is that? Well, simply put, more than 700 million people worldwide today are using cell phone-based instant messaging and SMS services. "IM has become accepted throughout the business world," said Adam Leiter, a spokesperson for OZ Communications, an IM software developer. "And with e-mail that doesn't push, using your cell phone for e-mail is more user-friendly than ever."
All of these technologies are just now starting to be used for marketing. I've heard that there are SMS technologies being used in shopping malls to message consumers, who happen to be carrying a phone, equipped to handle the data, that there is a special on right now, and that if they come to the store, they can save money. We all have heard about spam instant messaging for mobile phones, or spim, that is non-targeted, junk e-mail of the mobile phone market. I guess there will be criminals who take to this market too, like they have to e-mail.
"Cyber criminals create business disruption and personal threats throughout the world," said Ron O'Brien, senior security analyst at Sophos, the IT security experts. "In general there has been a sharp rise in cyber criminals being caught, primarily due to tougher laws and more effective security solutions."
Let's give these technologies a few years to shake out,though. It will be quite compelling to watch as direct marketing targets our mobile phones, like they target our PCs presently. Dealing with the unsavory elements may just be part of the cost of doing business.
---
Gene Koprowski
is a Lilly Endowment Award-winning journalist, TechNewsWorld contributor and nationally syndicated columnist.
---