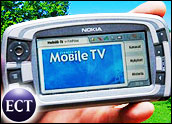 A new study by ABI Research indicates that an array of semiconductor developers have designed US$10 chipsets for receiving and displaying TV on mobile phones — a price point that marks the first important benchmark for the growth of mobile phone-based TV and video applications.
"This ramp-up in market penetration will begin to happen by early 2007," said Alan Varghese, principal analyst for wireless semiconductor research at ABI. "At a $10 price tag for chipsets, mobile TV will start to gain serious traction in high-tier handsets and smartphones."
Affordable for Consumers
The research consultancy predicts that the price of these chipsets will fall to $5 within just a few years. "The $5 price point is important: that is when a function migrates from the high-end to the mid-tier handset, and hits the 'hockey stick' inflection in its take-rate," said Varghese. "At that stage, large numbers of consumers will join the early adopters in choosing mobile TV handsets."
The electronic "ecosystem" of frequency allocations, technology choices, operator strategies, and partnerships with content creators is still evolving, so price is not the only factor that will determine the success or failure of mobile TV, said Varghese.
A number of broadcast frequencies and technologies — VHF, L band, DVB-H, T-DMB, ISDB-T and MediaFLO — are already in use around the globe, as developers hope to address every potential market. Some integrated circuit (IC) vendors are even demonstrating solutions that support multi-band and multi-standard mobile TV.
"The mobile TV marketplace means different things to different chipset vendors," said Varghese.
Huge Opportunity
For example, pioneering semiconductor vendors, including Analog Devices, Freescale, Philips, ST Micro and TI have a decided advantage: they already understand the workings of the cell phone. What is more, they know how the mobile TV section has to operate with the existing RF, baseband, applications, power management and display sections for optimized performance and low cost.
"As video and images go digital, it's a billion-dollar opportunity in the next five years," Greg Delagi, general manager for digital signal processors at Texas Instruments said.
Yet, smaller companies, like DiBcom, Frontier Silicon, Imagination Technologies, Newport Media, and Siano Mobile, as well as other start-ups, have the advantage that mobile TV is their primary focus, said Varghese.
Excess Inventories?
Although excess semiconductor inventories in the electronics supply chain are expected to swell by 11 percent on quarter to $1.3 billion by the end of the second quarter, research firm iSuppli believes that stockpiles aren't large enough to raise alarms.
Semiconductor companies are reporting that their inventories remain within expectations, generated by all these new applications and demand for processing power, and remain manageable according to the research firm, iSuppli.
The current expansion in surplus stockpiles appears to be restricted to the PC supply chain, not to the mobile phone market, and unmanageable excess inventory levels are not expected in the third quarter.
Semiconductor suppliers remain optimistic as the second quarter of 2006 comes to a close, this month, despite the major gains in inventory.
The consensus opinion among chip companies, iSuppli reports, is that the June quarter will end as expected, with no surprising surges in inventory. Channel sources tell iSuppli that inventory levels throughout the supply chain are healthy.
Figures from the trade group, the Semiconductor Industry Association (SIA), mirror comments from suppliers that iSuppi is speaking with, and indicate that the sales of analog devices, DSPs and certain memories are faring quite well. The communications and industrial sectors exceeded expectations, while mobile phones met expectations.
Global Growth
This growth in demand for chips is global, not just domestic. Digital signal processors (DSPs) will top the Indian semiconductor market by revenue in 2006, accounting for some $863 million of the country's total market of $3.62 billion, according to a study conducted by the India Semiconductor Association.
Microprocessors with a market of $583 million will be the second biggest category, followed closely by microcontrollers at $469 million and memory products with $444 million.
"DSPs and microprocessors have emerged as the leading semiconductor product categories, as the Indian market for mobile phones is expanding at a faster rate," the study said. It was carried out by Frost & Sullivan for the India Semiconductor Association.