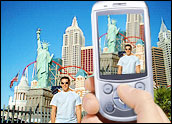 Mobile phone shipments grew a vigorous 26 percent year-to-year, reaching an unprecedented 235 million units shipped during the second quarter of 2006.
Nokia and Motorola accounted for a massive 55 percent combined market share during the quarter, according to a research report, "The Second Quarter 2006 Global Handset Market Share Update," from the Boston-based IT consultancy, Strategy Analytics.
"Motorola has recorded an average 52 percent annual growth over the last four quarters, while Nokia has averaged 32 percent," Neil Mawston, associate director of the wireless device strategies service at Strategy Analytics, said. "If Motorola can continue this breakneck pace — a stretch, but not totally inconceivable given the strength of their core designs — it would overtake Nokia in the first half of 2007."
A Warning for Nokia
Mawston said that "the stars would need to align for Motorola" on sales of additional new products, as well as 3G, and component supply sales, for that prediction to come true. "But this should be a strong warning for Nokia which should feel pressure to more rapidly improve both entry- and mid-tier product offerings in terms of both designs and numbers," said Mawston.
Sony Ericsson is another vendor who has achieved both a balanced product design and brand relevance with its Walkman products, resulting in record highs for the joint venture in shipments, revenues and profits, said Chris Ambrosio, director of the wireless device strategies service at Strategy Analytics.
"The important story for Sony Ericsson is the notable improvements in getting new products out and into channel on time — and profitably. If Sony Ericsson can continue in this area, where it has struggled in the past, the Walkman and Cybershot brands from Sony have legs to provide strong growth well into first half of 2007," said Ambrosio.
Other significant findings from the consultancy's report include the following:
The market share gap between Motorola (22 percent) and Samsung (11 percent) opened to its widest point since 1999, as Samsung continued to miss out on the boom in emerging SMS markets.
Sony Ericsson jumped back into fourth position for the first time in 2 years, as demand surged for its Walkman music phones.
The surge in sales in the handset market mirrors the growth seen in the wireless market in general.
Cingular Wireless, a joint venture between AT&T and BellSouth, this week reported net income for the second quarter of US$540 million, which is a year-over year increase of an amazing 267 percent.
Merger Mania
"This says unambiguously that the merger is not only working but delivering where it counts most — to the bottom line. It is also gratifying that we are on track on our other metrics, including customer additions, churn, margins, revenue growth and more," said Stan Sigman, Cingular's president and chief executive officer.
For the quarter, Cingular reported overall monthly subscriber churn of 1.7 percent, the lowest ever for the nation's largest wireless carrier. The company reported 1.5 million net new customers, which compares to 952,000 a year-ago, and to 1.7 million in the first quarter of 2006. More than 1 million of the customers were postpaid customers, which is a year-over-year improvement of 9 percent, the company said.
"Cingular continued to make strong progress in the second quarter, which was record-setting on a number of fronts," said Sigman. "Each and every quarter since the merger has been better than the one before it and serves as the benchmark for the quarter following it. Our progress includes improved network coverage and quality," Sigman said.