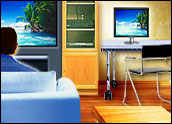 Part 1 of this two-part article examines how companies such as TiVo have developed innovative business models to make the longstanding dream of digital media convergence a reality. Part 2 takes an in-depth look at the importance of content to this movement.
Driven by technology, access to content is TiVo's primary need. To a large degree, however, access to content is precisely what traditional TV and cable broadcasters, as well as film studios, still control.
This crucial point has long been recognized, as well as debated, by TiVo management. The company announced last March an agreement to offer its DVR technology to consumers through Comcast's digital cable DVR platform. The first fruits of this partnership are expected to be seen at the end of this year or early next, just as a similar agreement TiVo has with DirecTV is set to expire.
"TiVo has revolutionized the way consumers watch and access home entertainment. This agreement also reflects our commitment to work with leading technology providers to offer customers more value and choice in their home entertainment experience," said Brian Roberts, Comcast's chairman and CEO, at the time the deal was announced.
Meeting Consumer Demand
Comcast is one of a small group of multimedia network operators large and diversified enough to position itself at the center of the digital convergence movement. During this year's first quarter, Comcast added 340,000 subscribers to the ranks of its digital cable customer base, the highest level of first quarter additions in its history.
That base now numbers more than 10 million, a 47 percent penetration rate of the company's 21.5 million basic cable subscribers.
Comcast's Q1 video revenues, which includes basic and digital cable subscribers, increased 6 percent to US$3.6 billion, reflective of a 1.3 million, or 14 percent, increase in the number of digital customers compared to the same quarter a year ago.
The growth in Comcast's video revenue and digital cable subscriber base reflects increasing consumer interest in new digital features including on demand, digital video recorders (DVR) and HDTV programming, according to Comcast's Q1 financial report. Twenty-eight percent of digital customers subscribed to its DVR and/or HDTV services as of March 31, 2006, compared to 17 percent in the prior year.
TiVo's management, meanwhile, is anticipating that the Comcast partnership will be the first in a series of strategic relationships with multiple service operators (MSOs) it views as necessary to securing long-term growth and what has proven to be an elusive goal: profitability.
Interactive Advertising
In addition to changing the way viewers watch and think about TV, TiVo is also attempting to rewrite the book on TV advertising and marketing.
Technologically, much of this effort centers on TiVo's personalization, product search and advertisement tagging technology.
In terms of interfacing with humans, it centers on offering advice and guidance to consumers at their request, helping them learn about products and services they are interested in when they are interested in them, and then helping them locate providers of those products and services.
For example, TiVo is now offering an innovative new form of interactive advertising for Lexus dubbed the Lexus Car Configuration Tool. This feature enables consumers to manipulate content on their screens to design, in a virtual sense, their own car.
In another example, the company in May launched TiVo Guru Guide, an exclusive feature that allows subscribers to find programming and automatically record shows based on recommendations from editorial experts at some of the nation's biggest brands, Rogers said during the Q1 earnings conference call.
At launch, Sports Illustrated, Star Magazine, Entertainment Weekly, Automobile, Billboard and others had signed on, and are now offering program recommendations based on popular television categories.
TiVo has also launched Product Watch, a consumer information service that more than 75 advertisers are contributing to, including the likes of General Motors, Sony Pictures, Lending Tree and Kraft Foods.
On more traditional footing, TiVo recently announced an advertising deal with Interpublic Media, one of the world's largest advertising holding companies. Commenting on the agreement, Rogers pointed out, "This clearly demonstrates the perception among ad agencies that there is a high enough demand among multiple clients for advertising inventory on TiVo to justify putting in place agency-wide deals."
It's Gonna Be Bright?
The Comcast partnership and additional MSO partnerships TiVo is negotiating, coupled with its growing presence in retail outlets and its ground-breaking advertising initiatives, may go a long way toward addressing the challenges facing the company in its drive toward sustainable growth and profitability in the near term.
It's further out in the future, just beyond the digital TV market horizon, however, where TiVo is looking to establish its presence.
"Where TiVo will clearly make its mark in this area is taking the Wild West of Web video and bringing it to the television set," Rogers said, "thus making all those options as easy to record and navigate as any prime-time television show. TiVo will increasingly stand for the key way to bring broadband-delivered video to the TV screen."
Illustrating the point, TiVo recently announced that it is introducing technology that will enable subscribers to view broadband Internet video on their TV screens, bringing the growing amount of broadband Web video previously available only via PCs into viewers' living rooms via their TV sets.
"The range and quality of broadband video is exploding on the Web, but it's not TV until it is on the TV," Rogers said of the new product.
TiVo also recently reached an agreement withBrightcove that will allow the latter to distribute broadband video content it develops directly to TiVo subscribers. The agreement offers a new, reliable method for distributing and offering TiVo subscribers the ability to download Internet video, Rogers said.
It also opens up opportunities for other publishers of broadband video to distribute content to TiVo subscribers and for "monetizing the distribution through advertising, subscription plans or pay-per-view," he noted.
On a newer and emerging digital video front, TiVo recently announced a deal with Verizon Wireless to debut a new TiVo Mobile application that enables subscribers to schedule recordings from their mobile phones.
Rogers described the deal as part of TiVo's effort to differentiate its technology from that of other digital TV competitors, but it also gets TiVo's foot in the door should mobile telcos like Verizon or their fixed-line counterparts venture further into the digital TV and video market.
During the Q1 earnings call, Stuart West, TiVo's acting CFO, advised analysts to expect a $12-$15 million loss for this year's second quarter. Although TiVo has struggled to achieve profitability, management believes the current form of its business model and its recent performance establishes a firm foundation upon which the company can vault into a market leading position as the digital TV movement continues to grow and develop.
"Our recurring revenue base and new subscription additions continue to demonstrate the strength of our business model," West said. "This kind of across-the-board momentum puts us in a great position to attack wide-ranging challenges we face as we build TiVo's role in the television and video entertainment industries."
Not Counting Networks Out
The verdict isn't in yet, however. Few, if any, are counting the big networks out. "TV distribution works fine, and will continue to work fine," said Forrester Research VP and principal analyst Josh Bernoff, "but traditional commercials are threatened, and revenue from plain old 30-second spots will decline as digital video recorders spread."
One way or another, it's certain that digital TV and digital convergence are well on their way, and the viewing public will play an important and pivotal role in determining how this tale will end.
"TV broadcasters may well thrive in this new world, but they will have to adapt," Wharton's Werbach said. "Their sister businesses in the movie industry, for example, didn't collapse when VCRs, cable TV, the Internet, or DVDs arrived; in fact, they turned many of those things into positive business opportunities."