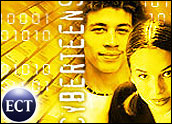 If retail marketers are going to capture the loyalty of the next generation of spenders, they're going to have to get hip to the new Web, according to a report from Forrester Research.
"The 73 million people under the age of 18 in the U.S. represent one thing to marketers and sellers: the next generation of spenders," wrote Forrester analyst Carrie A. Johnson in the report, a copy of which was obtained by E-Commerce Times.
"But those marketers are more 'American Bandstand' than 'American Idol,' making it hard to understand this connected, gadget-grabbing group," Johnson added.
Always Online
Young shoppers break into two distinct age groups, the report said, under 18 and 18 to 21 years old. While the over 18 crowd has more money to spend — US$193 a month, compared to $76 — both market segments have one thing in common.
"They're always online," Forrester reported. "The majority of both groups have broadband at home and go online daily. The online behavior of older teens illustrates that this is a generation that has hardly known life without the Web."
When they're online, what are young shoppers spending their money on? According to the Boston-based research firm, they're looking for computer hardware, software, music, DVDs and books.
However, the report noted, due to the touch-and-feel nature of soft goods, only a small percentage of younger or older teens shopped online for apparel and accessories, linens and home decor, and footwear.
Word of Mouth
Selling to young shoppers is challenging marketers because the buying segment leans so much on the wired word.
"Just as teens bring along friends to the mall, they find ways to incorporate their friends into online research," the report said. "They use tools like 'e-mail a friend' links on retail sites, wish lists, and IM when shopping to get purchasing help from friends.
"The majority of all teens also seek out social content and shopping tools like consumer ratings on Shopzilla and Shopping.com and reviews and peer-to-peer sales channels like eBay and Craigslist," the report added.
They also are great users of search engines, according to Vikram Sehgal, research director for JupiterResearch in New York City. "Across the different age groups, they're the most likely to use search engines," he told the E-Commerce Times. "So search engine marketing would be a very effective tool in reaching this age group."
Uninterested in the Traditional
The report revealed that older teens were more likely than younger ones to use the Internet to buy products offline, and it recommended that merchants cash in on that tendency.
"Although it would be difficult for many retailers, it's clear that there are benefits to providing real-time inventory information to sites like Google when it comes to capturing young consumers," it observed.
"With its search ubiquity, local tools, and integrated maps, Google captures the majority of local product search with both [older and younger teen] groups," it disclosed.
"Here once again young consumers show their general disinterest in traditional media," the report continued. "They're three times more likely to use Google to find local businesses than online yellow pages from a phone company."
Viral Marketing
One way to reach Generation N shoppers is through viral marketing campaigns. "For the most part, it works," the report said. "Teens are active users of viral marketing tools like forwarding video clips to friends, using 'e-mail a friend' links, and sending e-greetings."
Because teens are especially adept at avoiding advertising through the use of pop-up blockers and digital video recorders, marketers have gotten more creative in their delivery of their messages to this younger audience, Forrester's analysis maintained.
Promotions that work with teens, it said, include advergames, instant-win games, online coupons, streaming video ads and cell phone promotions.
Loyal … to a Point
"Seen as the next frontier, mobile marketing appears to infiltrate teens at a rate much higher than adults," the report said.
"Mobile phones are one of the most effective marketing vehicles for teenagers," Deborah Patton, vice president for corporate communications for New York City-based VNU Business Media, which has organized an annual conference on marketing to teens for several years, told the E-Commerce Times.
Forrester's analysts also disparaged the notion that most young shoppers are fickle.
"Although they admit to shopping around before making a purchase, more than half of both younger and older teens agree that when they find a brand they like, they stick with it," the report said.
That's true, but only up to a point, according to Patton. "You can develop their loyalty, if you get in quickly enough, for long term things — household products and stuff like that," she opined. "But in the trendy stuff, they're not that loyal."