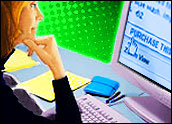 As the dust settles on this latest season's holiday shopping data, there is yet one more issue to consider before this time next year: conversions.
The recent release of the Top 40 Online Retail Satisfaction Index, a study produced by ForeSee Results and FGI Research, revealed that consumer satisfaction with most of the top 40 retail Web sites dropped over the holiday season. In fact, overall consumer satisfaction is down 4 percent from earlier in 2005.
Beyond higher holiday expectations for lower merchandise prices, the concept of designing for conversions — which refers to the percentage of site visitors who actually make an online purchase — is finding an audience with savvy online retailers. That's because they know that while over 70 percent of e-shoppers think shopping online is easier than shopping offline, Web design played a key role in 2005 online holiday spending.
So says a new report issued by interactive marketing and research firm Questus. Aside from pricing and shipping costs, the report found that over a third of shoppers cited navigation, the checkout process, and product descriptions as critical site aspects that impacted their completion of online purchases.
Web design is indeed a significant factor in conversion, according to Jimmy Duval, director of e-commerce products at Yahoo Small Business.
"When potential buyers come from a search marketing program and land on your site, it is important to make sure they know where to go and how to get the discounts you advertised," Duval told the E-Commerce Times. "The design of the shopping cart page is also critical. Good design can lower the barriers to conversion."
Helping Newbies
ForeSee survey data show that first-time and infrequent visitors are the least satisfied segments, with satisfaction scores 10 percent below more frequent site visitors.
"Retailers' inability to satisfy this segment of online holiday shoppers translates into what we call a 'lost loyalty conversion opportunity,'" said Larry Freed, president and CEO of ForeSee Results. "They could be turning new visitors into frequent visitors and then into loyal customers; instead, less satisfied shoppers may turn to a competitor or a more expensive channel."
Part of that loyalty is stimulated by appearance. The Questus study revealed that 68 percent cited distrust of sites that didn't appear professional. The report found that a quarter of shoppers left a site if they found it difficult to locate products, and a fifth left because the site didn't seem trustworthy or secure.
Additionally, online shoppers preferred fewer links than more links on each Web page. Required site registration was also a major barrier for shoppers. The report found that nearly a third of online holiday shoppers left a site without making a purchase because they didn't want to register with the site.
All About Conversions
Igourmet.com does 50 percent of its business in the fourth quarter. The company offers a 100 percent guarantee with no questions asked to make customers feel comfortable, according to Spencer Chesman, founder and CEO of igourmet.com. He knows that's not enough.
"An intuitive, easy-to-use interface is appreciated by all consumers — experienced and inexperienced," he explained to the E-Commerce Times. "Every program we implement at igourmet.com is designed to be easy enough for my 75-year-old father to use. If it doesn't confuse him, it should be intuitive enough for anybody to understand."
Chesman said igourmet.com also focuses on providing as much product information as possible. Each product has a lengthy paragraph of description and a large thumbnail image right on the shopping page. Simple clicks launch pop-up windows that display recipes, related products, serving suggestions,and larger images.
Conversion Design 101
As the Internet matures, all customers have higher expectations, according to Internet marketing and design expert Pedro Sostre.
"Consumers have seen and experienced well-designed Web sites, and they are less willing to settle for poorly designed ones," Sostre told the E-Commerce Times. "By well-designed, I don't mean good looking. The future of Web design, especially with regard to e-tailers, is Conversion Design."
According to his "Conversion Design" philosophy, a well-designed site is one that answers the questions: What is the site selling? Why should I buy from this site? How do I buy from this site? In addition, Sostre said, proper Conversion Design limits the number of steps required to complete a purchase and places the necessary emphasis on making the checkout process simple.
Yahoo's Critical Conversion Focus
Recent moves by Yahoo Small Business would indicate Sostre has the right idea. Yahoo Small Business introduced a beta version of a completely redesigned checkout process in its e-commerce solution last August. More than 35,000 merchants currently use Yahoo Small Business for their e-commerce needs and sell billions of dollars in gross merchandise each year through its platform.
Based on extensive research of merchant preferences and online consumer shopping behaviors, Yahoo's new Checkout Manager combines technology and best practices to allow merchant customers greater flexibility and control to customize their online store and optimize the shopping experience.
Many conversion challenges happen in the shopping cart. "When people abandon shopping carts they may have intended to purchase, but they often are trying to determine if there are any hidden fees at checkout first. They want to know how much shipping and taxes are," Duval said. "That's why we included a shipping calculator on our shopping cart."
The Bottom Line
At the heart of this discussion is, of course, the bottom line. Internet marketers and e-commerce gurus agree an e-tailer can generate the same amount of traffic from one day to the next, but if conversions jump an extra percent or two, the business could potentially gain thousands of dollars per year.
If you are going to pay for traffic, then, Sostre said it only makes sense to get the biggest bang for your buck. Design with conversions in mind and reap the rewards, he urged. Yahoo's Duval agreed.
"Yahoo is very concerned about conversion right now. We do everything we can to trace conversion for our merchant. That means experimenting with things like one-page check-out or multi-page check out," Duval said. "The flexibility for customers to make that choice can change conversion. The design world is waking up to conversion."
---
This is Part Two of a two-part series on e-commerce during the 2005 holiday season by E-Commerce Times reporter Jennifer LeClaire.
Part One
ran on Jan. 25.
---