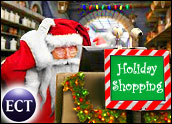 Online holiday sales are on a pace to crack US$26 billion this year — an 18 percent leap over last year, according to JupiterResearch in New York City.
"Reports we've seen from Mastercard and Visa indicate that online transactions are up sharply during this period relative to last year," Jupiter Senior Vice President, Research David Schatsky told the E-Commerce Times via e-mail.
"We look likely to be on track to reach $26 billion this year, up 18 percent from the same period last year and accounting for nearly a third of the almost $80 billion in total online retail sales we've projected for the year," he said.
In its holiday forecast released in October, Jupiter predicted online sales during the period would reach $26 billion.
Windows Shoppers
Helen Malani, chief shopping expert at Shopzilla, an online shopping comparison site based in Los Angeles, told the E-Commerce Times that the average online shopper expects to spend $338 at Net outlets.
"If that's what the average person is buying online," Kurt Peters, editor of Internet Retailer in Chicago, told the E-Commerce Times, "then it sounds like the average person is doing a third to half their shopping online, which is really good."
Although many shoppers are spending a substantial chunk of their holiday capital online, many more are not. While holiday sales have increased in the 18 to 25 percent range, recent surveys indicate shopping trips to the Net have increased 33 percent.
"That says that people are shopping online but buying offline," Peters reasoned.
Touch and Feel Compulsion
He explained that people like to use the Internet to comparison shop. "They like to get up to speed on the products they are considering before they go offline to buy," he said.
"If you're buying a complex product, like a big screen TV or digital camera, you may want to learn about it online and compare prices, but you eventually want to hold it your hand and try it out and see if it's easy to use or the right size."
And about a third of online shoppers, added Malani, of Shopzilla, expected to finish their online gift forays last week.
Delivery Concerns
"Many more online shoppers report a concern with on-time delivery than a year ago, despite guarantees offered by many e-tailers of guaranteed delivery in time for Christmas if you make your purchases by the 15th or 16th of December," she said.
Asked why e-sumer concern has increased over on-time delivery, Malani responded: "Everyone gets anxiety ridden over leaving their shopping to the last minute."
Although on-time delivery appears to be a concern of Web shoppers, information highwaymen apparently are not.
"There are a body of people who will not shop online because they have security fears," said Editor Peters, "but I think that that proportion of people has not grown."
Books, Videos, Music Strong
He expressed surprise at the continued strength book, music and video destinations have shown on the Web.
A survey released yesterday by Nielsen//NetRatings revealed shopping trips to book-music-video sites have increased, year over year, 238 percent.
"Books, videos and CDs have been sold online for a long time," Peters observed. "You would think that we'd start seeing huge growth in other areas.
"We're seeing good growth in other areas," he continued, "but books, videos and CDs continue to lead."
Digital Music Driving Trips
Nielsen/NetRatings Director of Strategic Analysis Ken Cassar told the E-Commerce Times via e-mail that digital music appears to be driving on-line music trips.
"Many of last year's gifts were iPods and MP3 players, making this a prime year for the gift of online content," he noted.
"Online music purchases from outlets like iTunes, Rhapsody and Yahoo Music are helping drive growth in the Books/Music/Video category, along with newly released movie and book titles," he added.
Channel Shifting
Next to books, videos and music, the Nielsen survey found trips to apparel locations exhibiting strong year-to-year growth of 38 percent.
"People are definitely getting more comfortable buying apparel online," Peters said. He noted that by 2010, apparel is expected to be one of the biggest online categories.
This year's holiday sales show that a shift is taking place in consumer buying habits, he contended.
"If offline sales are growing at a few percent and online sales are growing at 25 percent, consumers are definitely moving from the offline channel to the online channel," he said.