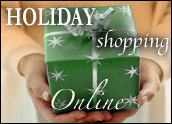 It's the sixth week of the all-important online holiday shopping season and the latest stats are in from Nielsen//NetRatings.
The Internet media and market researcher declared today that online holiday shopping has grown 33 percent year-over-year, according to its Holiday eShopping Index.
The Nielsen//NetRatings Holiday eShopping Index is comprised of over 100 representative online retailers across 10 categories, and acts as a barometer to gauge the level of activity at online shopping destinations during the holiday season.
Last year at this time, the Holiday eShopping Index showed shoppers visiting retail sites 348.3 million times during the week. This year, the number of shopping sessions grew to 462.5 million.
Mixing the Old With the New
"Online shopping has increased over last year because both new and experienced Internet buyers are not only researching products and comparing prices online before making a purchase, but they are also finding good holiday discounts online," said Heather Dougherty, senior retail analyst, Nielsen//NetRatings.
The year-over-year fastest growing category was books/music/video, which increased in shopping visits by a whopping 238 percent compared with the sixth week of the 2004 holiday season.
Apparel ranked second in year-over-year growth with an increase of 38 percent, while Toys/Video Games, Retail and Consumer Electronics rounded out the top five year-over-year fastest growing categories, each with 28 percent growth.
"Retail sites across all product categories have experienced growth over last year and traffic continues to escalate as the holidays get closer," said Dougherty. "The significant increase in visits to the Books/Music/Video category is being driven by the vast selection of titles released during the holidays."
Fastest Growing Categories
During the first six weeks of the 2005 holiday season, the Holiday eShopping Index rose 39 percent. Toys/Video Games was the fastest growing online retail category, increasing in shopping trips an impressive 149 percent over the week ending October 30th.
The flowers and gifts category also enjoyed significant growth in shopping sessions since the holiday season's onset, climbing 117 percent over the first week. Consumer electronics, jewelry and shopping comparison/portals rounded out the top five fastest growing online retail categories, increasing by 90 percent, 81 percent and 64 percent, respectively.
Positive Momentum
Scott Silverman, executive director of Shop.org, told the E-Commerce Times that his research shows online retailer optimism is very high. The optimism rose from 24 percent in September 2005 to 31 percent after the Thanksgiving holiday.
"Retailers cited several positive external factors contributing to the increased sales this year," Silverman said. "The top three reasons were decreased gas prices, increased acceptance or comfort with online shopping, and the press coverage about online shopping. We are experiencing a general momentum right now."