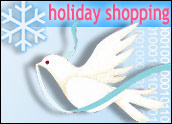 Cyber Monday outpaced Black Friday in the online shopping arena once again this year, which comes as no surprise to e-tail analysts who predicted the phenomenon long ago.
Nielsen//NetRatings' Holiday eShopping Index saw 15 percent more traffic on Cyber Monday than on Black Friday, drawing a total unique audience of 27.7 million, combined home and work.
Black Friday traffic to online shopping sites grew 39 percent week-over-week from home, while Cyber Monday retail traffic grew 18 percent week-over-week from work.
"'Cyber Monday' brought a surge of traffic to many online retailers as shoppers returned to work following the holiday weekend ready to tackle their holiday gift lists," said Heather Dougherty, senior retail analyst at Nielsen//NetRatings. "Heavy promotional activity will entice shoppers to take advantage of the discounts and free shipping offers that are being offered online."
Top Shopping Sites
The top shopping sites for Black Friday and Cyber Monday were fairly consistent,with NetFlix joining the top ten on Monday.
EBay was the most visited site on both Monday and Friday with Amazon.com coming in a distant second, according to Nielson//Netratings. Wal-Mart Stores ranked third, but saw more visitors on Friday than Monday. Target Stores came in fourth with the same scenario.
Overstock.com, Dell, Shopping.com, BestBuy.com, Netflix, Shopzilla.com and CircuitCity.com rounded out the top 10.
Shopping Shopping.com
Shopping.com, an online comparison shopping service, reported a 30 percent increase in year over year traffic on Black Friday and a 37 percent increase in year over year traffic on Cyber Monday.
More than 2.8 million unique shoppers visited the site on Friday, November 25 and more than 3.4 million unique shoppers visited the site Monday, November 28.
"Cyber Monday is an early indicator of what we can expect from online holiday shopping, both the volume of shoppers and what they're looking to buy," said Shopping.com CEO Lorrie Norrington. "This year, more mainstream consumers than ever before are using the Internet to find, compare and buy their gifts and that's reflected in increased traffic and the types of products bought and sold."
Beyond the Top 10
Online bags and shoes retailer eBags may not have made the top ten list, but the company announced record sales for Cyber Monday with an increase of 59.5 percent over 2004. Traffic increased by 39.0 percent according to eBags internal data.
EBags said it added some new features designed to make holiday shopping easier. For example, orders on eBags.com over $100 are eligible for "No Payment for 90 Days." For those not sure what gift to give, eBags.com offers personalized gift cards.
"We are pleased with our performance over the holiday," says Jon Nordmark, CEO of eBags, Inc. "The growth is primarily due to the launch of our new Web site, 6pm.com, and new technological innovations within the corporation. We are always looking for ways to make shopping for shoes and bags easy and fun for our customers."
Early Takeaways — and Giveaways
Scott Silverman, executive director of Shop.org, told the E-Commerce Times that the most significant aspect of the 2005 holiday season so far is the aggressiveness of online retail promotions.
Silverman said whether it's "buy one get one free" or "purchase with purchase" or free shipping, the percentage of retailers relying on promotions to drive traffic have increased since last year.
"The most popular promotion is free shipping with conditions, like a minimum order size. We see a big jump year over year in that promotion," Silverman said. "When we did our pre-holiday survey in 2004, 64 percent of retailers were planning to offer free shipping with conditions. In 2005 that jumped up to 79 percent."
Will all the promotions lead to a major payoff? Analysts said we'll know after the dust, er, snow settles, but the outlook is good. "We've seen steady growth year over year and we expect this to be a good year," Silverman said.