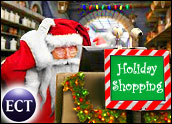 No doubt there will still be lines outside of malls and department stores early in the morning on Black Friday, long the unofficial kickoff of the holiday shopping season.
But as the busiest stretch of the year for retailers gets under way, there are more signs that retailers themselves believe the lines may be a bit shorter at the stores, with more users choosing to do their shopping and buying online.
Always Open
In the days leading up to Thanksgiving, several major retailers used national marketing campaigns to subtly remind shoppers they need not to wait until stores open early on Black Friday. Wal-Mart, Macy's, Home Depot and others are making it clear to shoppers that the always-on Internet makes it possible to get an jump on the buying even on Thanksgiving itself.
That shift is just one of many signs that retailers are buying into the predictions that e-commerce will once again post strong double-digit gains in sales. Analysts have pointed to a number of factors, including high gas prices and the arrival of nasty wintry weather in some parts of the country, that may convince more shoppers to stay home. Put it all together and the ingredients are in place for a blockbuster season.
Shop.org, the online arm of the National Retail Federation, now says Internet sales, including travel, during the holidays are expected to rise 22 percent from 2004. While that's slightly less growth than a year ago, some slowdown is not a surprise given the size of the online market today.
Forrester Research, meanwhile, is sticking by its prediction of 25 percent growth, though analyst Carrie Johnson said the days when Web sales would grow no matter what happened in the rest of the economy are over.
"The Web will certainly feel the effect of negative offline trends, the sheer number of new online shopping households — and the lure of free shipping for these shoppers — will sustain online sales through the end of December," she said.
What's Hot, What's Not
Evidence that retailers hope the Internet can jump-start the season abound in marketing efforts. Toys R Us plans to offer the same one-day specials that its stores will carry on Black Friday on the Web a day earlier. Wal-Mart has announced it will feature certain online-only products beginning on Thanksgiving, including an MP3 player and some apparel items.
Wal-Mart and other major Internet retailers contacted by the E-Commerce Times, including Amazon.com and Overstock.com, declined to give specific forecasts on the season, but said they were prepared for an onslaught of shoppers as early as Thursday morning.
On Wednesday, Amazon said that during the first three weeks of November, some 33 million items had been sold on its sites worldwide. Amazon began publishing updates on items sold during the 2000 holiday season.
Amazon said it expects electronics, jewelry and home and garden items to be among the most popular this season.
Like many other online retailers, Amazon is extending free shipping offers to customers and will again try to capture last-minute shoppers by promising delivery by Dec. 24 of items purchased up until Dec. 22 and ordered with advanced shipping options.
Free Sells
Johnson said free shipping promotions, long a key to Internet sales success, take on extra importance this year with higher gasoline prices. Some analysts wondered whether retailers could absorb the added costs of shipping.
So far the answer is yes and consumers will likely reward retailers who stand by those promotions, she added.
While new shoppers are important, a survey conducted by PriceGrabber.com found that existing shoppers will also boost spending, with 93 percent of those it surveyed saying they will spend more this year compared to 2004.
PriceGrabber's own data suggests some categories are seeing remarkable growth heading into the holiday crush, with traffic to apparel and sporting goods sites up some 600 percent.
Meanwhile, Yahoo said it believes small businesses will be among the biggest beneficiaries of this year's online holiday buying surge.
A poll conducted by Harris Interactive found that eight out of 10 holiday shoppers will go online to look for gift purchases and that 80 percent of those said they were likely to buy from niche retailers.
Those specialty shops often offer the best selection of certain items, said Rich Riley, vice president and general manager of Yahoo Small Business.
That so many consumers are willing to buy from low-profile retailers over the Web is a vote of confidence in e-commerce, suggesting that many consumers are not deterred by reports of online fraud and other problems, Riley noted. "Holiday shoppers are ready and willing to buy gifts online from those small businesses that offer variety and value," he added.
The Harris poll also found that 79 percent of shoppers would be driven to do more buying online by the need to avoid driving to stores because of higher gasoline prices.
Forrester's Johnson said as good as the holidays will be, economics may pressure online retailers early in 2006.
But right now, few retailers are thinking much beyond the end of December.