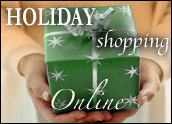 Online holiday shopping grew at a pace that beat out even optimistic forecasts, with spending growing as much as 30 percent as various factors, including aggressive promotions and free-shipping deals that may cut into e-tailer's profits, attracted more Web buyers.
The Goldman, Sachs & Co., Nielsen//NetRatings and Harris Interactive Holiday eSpending Report pegged the full holiday shopping take at US$30.1 billion, a 30 percent increase over last year.
comScore Networks, meanwhile, put the haul at $18.11 billion, a 25 percent increase over the year before. Both firms' figures exclude travel spending.
Better Than Expected
Nielsen//NetRatings senior analyst Heather Dougherty told the E-Commerce Times that the numbers came as something a surprise, since they nudged out forecasts and represent faster growth than was clocked in 2004.
"One of the big drivers is that the two product categories that had big growth — computer hardware and consumer electronics — have historically been very strong online categories," she said. Computer equipment sales were up 126 percent to $4.8 billion, while electronics sales — driven largely by the Apple iPod, plasma TVs and digital cameras — were up 109 percent to $4.7 billion.
"It was a huge gadget Christmas this year and those products are perfect for comparison shopping online," Dougherty added.
comScore Chairman Gian Fulgoni noted in a release that the 25 percent growth his firm tracked beat its own forecast for a 24 percent rise in sales. Aggressive promotions, including free shipping and discounts, helped to drive the growth, Fulgoni added.
That penchant for promotion may hinder online retailers' efforts to turn a profit, however.
Goldman Sachs Internet analyst Anthony Noto said despite the healthy growth rates, some merchants may still find themselves in the red. "While 2005 holiday sales appear to be at the high end of expectations, continued heightened competition could hurt profitability," Noto said.
New Categories, New Confidence
Dougherty said one surprise in the holiday shopping scene was the continued emergence of online apparel sales, which rose 42 percent to about $ 5.3 billion, to become the largest category of sales during the season. That's significant because it shows consumers willing to buy items that are often purchased based on a shopper's fit, material quality and other question best determined in traditional retail settings.
The books category saw slower growth, rising 66 percent to $2.9 billion, while toys and video games actually fell from a year ago, dropping 9 percent to $2.2 billion, the eHoliday report said.
Dougherty said the data also showed a surprisingly long online shopping season, with buyers waiting longer than in the past to buy from the Web. Sales for the last two weeks before Christmas reached $11 billion.
"People procrastinated quite a bit," she said. "They were waiting to see what sales would be out there at the end. Even in the final week, sales were still strong."
Retailers made the most of that trend, offering rush delivery for an additional fee. "People trust that their on-time delivery is going to happen," Dougherty added.
comScore noted that gift card and gift certificate sales were up 19 percent, with multi-channel retailers among those that benefit, since those receiving the gift cards have more options for redeeming them. comScore said 7 of the top 10 busiest sites during the holiday shopping season were retailers that operate in more than one channel, with eBay, Amazon — which ranked first and second, respectively — and Overstock.com the only pure-plays on the list.
End of the Rainbow?
The eHoliday report showed a continued shift from offline to online retail, with the survey suggesting that 68 percent of spending would take place in stores, compared to 78 percent just three years ago.
Another report, from consulting firm KPMG, said that more than half of all shoppers bought something online, including older consumers, and said that the typical Web shopper is armed with more buying power than those in stores.
"The Internet continued to attract the most desirable customer, as the higher the income, the more the likelihood to buy on the Internet," John Rittenhouse, a national partner in charge of KPMG's Operations Risk Management practice, said in a release. "People with incomes over $75,000 were twice as likely to use the Internet compared with people with incomes under $30,000."
NetRatings' Dougherty said looking ahead to 2006, online retail may have trouble sustaining such vigorous growth rates, but that double-digit expansion seems possible for another couple of years.
"You're still seeing more shifting of the dollars. More people are becoming new buyers and more dollars are being shifted online," she said. "There's a lot of forces at work to help keep the growth coming."