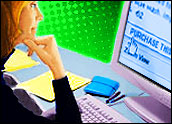 While credit card companies research and develop new anti-fraud measurements, alternative payment solutions providers are cashing in on the demand for online security and customer choice.
Alternative payment solutions are often less expensive for the merchant and can be easier to use than setting up the merchant account that is required to process credit card payments. What's more, there is strong data to bolster the use of these alternative payment solutions.
Quality Research Associates polled 147 of the leading online retailers last year to determine the benefits of offering multiple payment options.
Converting Customers
The poll, commissioned by CyberSource, discovered that sellers who accept four types of payments — such as credit cards, online checks, PayPal and similar services — have more visitors convert to customers than do merchants who offer a single payment method.
According to the data, merchants can convert as many as 20 percent more customers by offering them more payment types to choose from. Those merchants offering one payment type, such as general purpose credit cards, for example, convert 60 percent of their shoppers.
"Adding payment types can be effective because the Internet is now reaching well beyond the early adopter," said Doug Schwegman, CyberSource director of customer and market intelligence.
"We're hitting different demographics now; people who may prefer not to use credit cards and people who don't have them. Others simply prefer the convenience of an alternative payment method for a single transaction."
Schwegman said some amount of shopping cart abandonment is to be expected in online commerce, but there are certainly ways of keeping that to a minimum. One of those is making a variety of payment options available.
Paying With PayPal
PayPal lets consumers send money to anyone with an e-mail address. Fund are drawn from the consumer's credit card, debit card or checking account. PayPal has more than 86.6 million registered users and offers 100 percent protection against unauthorized payments sent from a user's account.
PayPal's per-transaction fee is 3.3 percent, which is much more affordable for many smaller businesses that use PayPal to skirt the merchant setup and transaction fees associated with credit card use.
Mary Margaret Gibson, president of MirrorsandLight.com, told the E-Commerce Times her company uses PayPal for all financial transactions that involve credit. Her company's average sale is more than US$400, with frequent sales of more than $3,500.
"We stay an arm's length away from ID theft and liability and PayPal security is outstanding. That's very important from our corporate view of the world as a great e-commerce market with lots of pitfalls," Gibson said. "Our international clients can buy with confidence and security from an international entity instead of a small company."
MirrorsandLights.com is protected from rip-off artists by PayPal's security and ID verification, she added, and her company does not have to open merchant card programs to provide every available card on the market because customers can use the card they prefer via PayPal.
An Eye for Commerce
Then there's I4 Commerce, a provider of alternative payment solutions for multichannel retailers. The company has developed a technology called Bill Me Later that is catching the attention of major online retailers
With Bill Me Later, customers who do not have a credit card, or those who, for security reasons, prefer not to use a credit card online, can still complete their holiday shopping via the Internet.
Bill Me Later lets users enter some basic information, such as date of birth, to make a purchase. Within a few seconds, Bill Me Later qualifies the customer, completes the purchase, and sends a bill. The customer can pay the cost in full or finance the purchase over time.
Companies like Walmart.com, Overstock.com, and SmartBargains are using Bill Me Later. I4Commerce claimed the alternative payment method reduces merchant transaction costs and decreases shopping cart abandonment rates.
"Since we began offering the Bill Me Later service, SmartBargains has experienced a higher average ticket on Bill Me Later transactions and new customer acquisitions," Mark Weinberg, vice president of Business Development for SmartBargains. "The result is that we have been able to further differentiate ourselves in an increasingly competitive retailing environment."
Zapping Payments
Western Union lets online retailers accept checks through its MoneyZap service. Western Union said the service opens up the world of e-commerce to consumers who write 18 to 20 billion checks annually at point-of-sale locations and to the more than 80 million Americans who don't use credit cards, and relieves the burden of processing online check transactions.
Most recently in the alternative payment solutions arena, NPW Development acquired GreenZap, an online payment service that launched in June 2005. The service resembles PayPal in that you can send money to anyone with an e-mail address. But GreenZap charges a flat fee versus a percentage of each transaction. NPW acquired the company and is bolstering revenues by promoting its own online store.
"We continue to add merchants to our online store every day. Right now there are approximately 500 merchants offering their products at a discount to our account holders," said GreenZap COO Michael Bernstein.
Global Payment Solutions
In preparation for the 2005 holiday shopping season, electronic payment processor Paymentech launched a new service in July designed to make it easier for merchants to expand their businesses globally and accept payments in the customers' currency of choice.
Paymentech's Global Currency Management enables Internet catalog and recurring billing businesses to accept payments in more than 150 presentment currencies and to settle transactions in four popular currencies: the U.S. Dollar, the British Pound Sterling, the Euro and the Japanese Yen.
Paymentech said chargeback risk and customer disputes are greatly reduced, because merchants are able to bill customers in their local currency, greatly reducing customer confusion over the final price. Paymentech guarantees the exchange rate for each transaction, including chargebacks.
"Our merchants conduct business all over the world, and we felt it was important to offer Global Currency Management, so no matter how their customers choose to pay, merchants can accept that payment," said Paymentech COO George White. "It's the easiest, fastest, most cost-efficient way to expand into the global market without establishing in-country banking relationships."
Temporary Credit Cards?
What about the notion of temporary credit cards? Do they alleviate concerns of online shoppers? Do these disposable credit card numbers eliminate the risk of hackers gaining personal data?
American Express became the first company to offer disposable credit card numbers in 2000. Citibank offers a Virtual Account Number Program designed to protect the consumer by providing them with a substitute number for each transaction.
Laura Gingiss, a spokesperson for Discover Financial Services, Inc., told the E-Commerce Times that Discover does not currently offer temporary credit cards.
"We offer Cardmembers shopping online Secure Online Account numbers, which are a free shopping tool that substitutes a secure number for your real Account number — so their real account numbers are never revealed," Gingiess said.
MNBA and other banks offer similar services. But analysts said they are not necessarily making a transaction more secure.
"Temporary credit cards and transaction numbers are helpful if there is a theft, but I would rather work on preventing theft in the first place," Matt Ornce, COO of EPX, a payment processing company that works with Visa, MasterCard, Discover and American Express, told the E-Commerce Times.
An Excellent PR Maneuver
Vic Dolcourt, senior product manager for risk products at CyberSource Corporation, said temporary credit cards are an excellent public relations maneuver, but fairly unspectacular when it comes to usage.
"Temporary credit cards have a faulty basis. It's for consumers who want to shop with really risky merchants," Dolcourt said. "It's a competitive move by the banks to show they are interested in security, but only a small portion of the population use them."
The fact remains that a large portion of consumers are using other alternative payment options — analysts expect that number to increase as new options become available and more consumers without credit go online to find bargains.
---
Online Merchants Choosing Alternative Payment Options
is Part Three of a three-part series on credit card security by E-Commerce Times reporter Jennifer LeClaire.
Part One
ran on Dec. 7.
Part Two
appeared on Dec. 14.
---