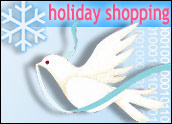 As the holiday shopping season starts its last leg today, online merchants are smiling and offline retailers are preparing for the annual Saturday surge.
Shopping on the Net has been brisk since Thanksgiving.
Shopping.com reported yesterday that every day since Black Friday — the day after Thanksgiving — traffic at its site has exceeded the single biggest traffic day in 2004.
And Yahoo Shopping announced earlier this week that traffic there has risen 45 to 55 percent since Black Friday, far exceeding the company's expectations of 25 to 30 percent at the start of the holiday season.
Trips Into Bucks
Those trips are being converted into dollars for Nettailers, too, according to the most recent Shop.org/BizRate Research eHoliday Mood Study. Of the more than 100 online merchants surveyed in that poll, 58 percent said their sales increased 30 percent or more during the first two weeks of the nation's seasonal potlatch.
Not surprisingly, the mood study found among online merchants a good uptick in optimism. Some 31 percent said they were "very optimistic" now about holiday sales, compared to 24 percent in September.
"What's made this year unique is how aggressive retailers are with promotions compared to last year," Scott Silverman, executive director of Shop.org, told the E-Commerce Times.
"The one that stands out," he said, "is free shipping with conditions."
Helen Malani, chief shopping expert with Los Angeles-based Shopzilla, added, "Retailers know that consumers respond exceedingly well to free shipping."
"It's the number one incentive for closing a deal online," she told the E-Commerce Times.
Offline Tsunami
But as online sales peak — a peak that corresponds historically to the last day standard shipping can deliver a gift before Christmas — attention will be focused on offline retailers, who traditionally see a tsunami of shopping the week before Santa takes his annual sleigh ride.
"We get a big boom in sales at the front end and another boom at the back end," Lynn Franco, director of the consumer research center at The Conference Board, a global research and business membership organization based in New York City, told the E-Commerce Times.
That boom will be needed if offline retailers are to meet pre-season predictions that their sales would jump 6 to 6.5 percent during the holidays. Some prognosticators — like the International Council of Shopping Centers — peg sales at half that — 3 to 3.5 percent.
Lingering Apprehension
A three percent increase is "not bad, but it's not great," according to Franco.
On the other hand, the specter of that increase could bode well for last-minute shoppers. Asked if bricks-and-mortar merchants will crank up the discounts to get people into the stores over the next 10 days, Franco responded:
"I think they will because there's some apprehension lingering that sales have not been as robust as they would like them to be. In order to entice people in, they're going to have to rev up the promotions and the bargains."
Petrol Paralysis
The question remains, however, will promotions and bargains be enough to entice shoppers into their cars for a trip to the malls.
According to a Conference Board study released yesterday, one out of every three households told surveyors that rising energy prices would alter their holiday shopping this season.
Moreover, the survey noted that more than half of all consumers said that they would be making fewer trips to the mall this year.
That need not deflate the hopes of offline merchants for a slam-bang finish to the holiday season, according to Franco. "Consumers may be more selective as to when they make their trips so they might be saving their trips until next week," she hypothesized.
End Rush
Bricks and mortar retailers will benefit from another shopping trend: procrastination.
"The trend is that consumers are shopping later and later, both offline and online," Patty Freeman Evans, a retail analyst with Jupiter Research in New York City told the E-Commerce Times.
"I would expect that trend to continue and for next week to be a very heavy shopping week," she said. "Saturday may be the biggest day, but it's going to be a heavy week all week for offline."