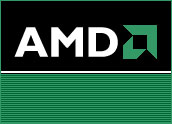 Amid a sea of largely positive technology earnings, Advanced Micro Devices posted mixed results Thursday, with acquisition costs denting profits even as the company shipped a record-high number of processors for a third quarter.
AMD did manage to beat Wall Street estimates for revenue, posting sales of US$1.6 billion, up from $1.33 billion in the third quarter of 2006. AMD posted a loss of $396 million compared with a profit of $121 million in the year-ago quarter.
Much of the loss was tied to costs associated with integrating the $5.4 billion purchase of graphics chipmaker ATI, AMD said.
Closely Watched
AMD was in the spotlight this quarter because of recent turmoil at the company. It lost its top sales executive over the summer amid slumping results. Although AMD made a strong run at Intel throughout much of last year, its deep-pocketed and much larger rival has been pushing back.
"We are encouraged by the progress we made in our third quarter financial results," said CFO Robert J. Rivet. The company sold a record number of microprocessors through its distribution channel and beganshipping its new quad-core Opteron server processors during the quarter, he added.
Investors didn't share Rivet's optimism, however, with AMD stock caught in a downward trajectory for Wall Street in general. In afternoon trading Friday, AMD shares were down more than 5 percent to $13.81.
Grabbing Share?
AMD executives suggested in a conference call they may have won back some market share from Intel during the quarter.
"For the second quarter in a row, we grew our revenues and believe we gained CPU (central processing unit) market share," said President and COO Dirk Meyer. "We made good strides to put AMD on course to approach profitable operating performance in the current quarter."
Mobile processors sales particular were strong, hitting an all-time high for the company, Meyer said, and graphics revenue rose 29 percent, due in large part to the first wave of AMD-ATI products.
Getting quickly back to profitability is important for AMD because it needs as much financial flexibility as possible in order to be able to compete with Intel over long haul, said Gartner analyst Martin Reynolds.
"The history has been that AMD makes a surge and Intel responds and takes back market share," Reynolds told the E-Commerce Times. "AMD has built momentum around Opteron and its mobile chips are gaining traction with consumers now, but it has to be wary of a long-range pricing war with Intel."
AMD executives during the call insisted the transition to a 45-nanometer fabrication process was on track, but said more details would be provided on that effort — which could help drive down production costs and keep pace with Intel's development pace — during an analysts' day scheduled for December.
Not So Tender
AMD moved "tens of thousands" of its new Opteron quad-core chips in the quarter — not enough to materially impact results — but expects to ship "hundreds of thousands" in the fourth quarter, it said.
That product is key because it aims to follow up on the success of the early Opteron chip family, which helped convince more technology vendors to build AMD chips into their servers, commented Mercury Research analyst Dean McCarron.
"AMD really took the market by storm in 2003 with Opteron and if this new family of chip can repeat that performance, they should have a couple strong quarters ahead of them," McCarron told the E-Commerce Times.
Separately, meanwhile, AMD issued a warning to investors urging them to steer clear of a so-called "mini-tender offer" from TRC Capital, which offered to buy up to 5 million shares of AMD stock. The tender offers $13.25 per share, AMD noted, below recent trading prices.
TRC has made similar offers before and often uses them to make a profit on its purchases, AMD said. By keeping its ownership levels below 5 percent — in the case of AMD it would own less than 1 percent of outstanding shares if it got all 5 million shares — TRC avoids more stringent Securities and Exchange Commission (SEC) disclosures and reviews of its offers, AMD said.