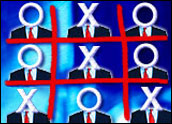 Markets responded favorably to Tuesday's news that the chairman and CEO of Paris-based Alcatel-Lucent would be leaving the merger-troubled company.
The telecommunication company's stock was up nearly 6 percent by market close following the announcement that CEO Serge Tchuruk and CEO Pat Russo will both leave later this year. The company also announced second quarter revenue in line with analyst estimates.
The departures are good news for the company, which has not posted favorable financial results since its 2006 merger, said Ken Muth, an analyst at R.W. Baird.
Confusion from competing cultures and product lines was an "inward-working cancer," he said, that all but sealed the fates of Tchuruk and Russo, who headed the two companies before merging — Tchuruk at Alcatel and Russo at Lucent.
"All kidding aside, they were fired," Muth told the E-Commerce Times. "The market is applauding."
Time to Move On
"It is now time that the company acquires a personality of its own, independent from its two predecessors." said Tchuruk in a company statement.
Tchuruk will leave on Oct. 1; Russo will step down by the end of the year.
Alcatel-Lucent will reconfigure its board to reduce its size and bring in new members.
The company plans to begin its search for a new CEO and chairman immediately.
Too Early to Predict Results
It's too early to say exactly what impact the changes will have on the company's future, Muth said, but he expects a wholesale changeover of C-level executives heavily favoring Europeans once the restructuring is complete.
That team, which could take as many as three years to assemble, will need to chart a course for the company that reverses years of confusion for customers and employees — and blocks inroads Asian competitors have been making into the company's lines of business, he suggested.
Those lines include providing products to fixed and mobile voice and data carriers, as well as networking solutions for enterprise clients and network integration services.
Many Reasons for Shortcomings
The merger itself is partially responsible for the success of Alcatel-Lucent's competitors, Muth observed.
Yet despite the success of such competitors — most notably China's Huawei — Alcatel-Lucent has a lot of upside, said Ovum Vice President of Network Infrastructure Dana Cooperson.
The company was not able to make good on promised efficiencies from the merger in part because of overlap in product lines between the two companies, and also due to reluctance among clients who had invested in those lines to see them killed.
Role of Technology Changes
The company is also suffering from technological changeover, notably in its DSL and fiber segments. Revenue from DSL is receding faster than fiber revenue can grow to replace it, Cooperson said.
Still, the company's strengths — in wireline, where it is considered the market leader, and in optical networking — should help it get through while restructuring to take full advantage of the merger's potential, Cooperson said.
"They've got a lot of assets to draw from and a lot of strengths in markets," she said.
Still, the new leadership team will need to make tough decisions, noted Cooperson, such as which product lines to kill off, and which product segments and geographic markets to stay in.