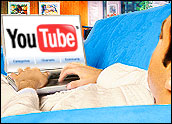 Visitors to YouTube will now find advertisements temporarily appearing at the bottom of some videos as the Google-owned site experiments with ways to draw revenue to itself and to those who produce the clips.
Initiated with little fanfare, the advertising program currently involves only videos created by some "select partners," said YouTube. These tend to be professionally produced clips, such as music videos.
Ads Appear as Overlays
The translucent, in-video ads appear shortly after the main video begins playing, and can be stopped at any time by the viewer.
"These are animated overlays that appear on the bottom 20 percent of a video," explained YouTube in announcing the program. "If you're interested by what you see there, clicking on the overlay launches a deeper interactive video ad that we think is relevant and entertaining."
Once a viewer clicks on the advertisement, the main video pauses. It resumes playing after the ad finishes. "If you choose not to click on the overlay, it will simply disappear, so that you're in full control of your YouTube experience," noted YouTube.
Expanding the Revenue Base
The company started rolling out the new ads several weeks ago. It has been "working with select partners to improve YouTube's presentation of advertising on their videos in a manner that brings you creative, compelling content and should also increase revenue flow to artists and content owners," the company said.
Google, which acquired YouTube last year for US$1.65 billion, has been saying all along it would be investigating ways of enhancing advertising on the site. By partnering with video makers who agree to have the ads play simultaneously with their content, YouTube is moving beyond the standard types of ads it used previously: stand-alone banners or boxes that are separate from the videos.
Hate Mail
Judging by the majority of comments posted on the YouTube blog in response to the announcement, the idea of in-video advertising is controversial. Many commentators insisted ads within videos will ruin the YouTube experience.
However, in-video advertising just might be the solution to the puzzle of monetizing online video and compensating video creators, said JupiterResearch analyst Barry Parr.
"It's a difficult problem," Parr told the E-Commerce Times. "We definitely acknowledge that putting the ads inside user-generated video is not ideal from the producers' point of view. However, there are tremendous advantages as well."
A Big Business
It takes "a lot of resources" to host millions of videos "and this has to be a business," Parr noted. "In the long run … the high-end producers, those producing videos people want to see, are going to start looking for compensation," he said.
In time, people will become accustomed to the in-video ads, predicted Parr. He said the current negative reaction by YouTube fans is likely to subside.
"Basically, any change is going to get a lot of negative comments," said Parr. "That's sort of the nature of peoples' relationship to their media."
Sites such as YouTube, and producers of videos who want to make money off them, have only a few options and all of them have drawbacks.
"I don't think anybody has been completely satisfied with the options we've had so far," said Parr. "Basically it boils down to whether people will tolerate a pre-roll ad in front of a video, and actually watch the video, or will an interstitial ad interrupt the flow? And, if you put it post-roll, will people stick around for the ad? You hear those questions and complaints all the time. I don't think anybody is happy with those either."