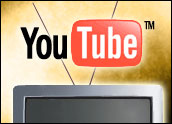 Google and YouTube are planning to unveil copyright protection technology that goes above and beyond what some observers think is even possible.
A Google lawyer told a judge that Google it is creating a database of video "fingerprints" and a system that will match them against uploaded clips to screen out those that appear to be copyrighted, according to media reports.
In their answer three months ago to Viacom's big copyright-infringement lawsuit, YouTube and Google said the complaint "threatens the way hundreds of millions of people legitimately exchange information, news, entertainment, and political and artistic expression."
Working by September
YouTube and Google "respect the importance of intellectual property rights" and "go well above and beyond what the law requires" to protect those rights, the companies said.
The plan is for the new system to be up and running sometime this fall, said the reports. Google's lawyer referred questions to a company spokesperson, who did not immediately return a call for comment.
If the system is developed, it will go well beyond YouTube's current copyright-protection efforts, which basically consist of taking down copyright-infringing clips it discovers or is told about.
We Warned You
"We take copyright issues very seriously," says the YouTube site. "We prohibit users from uploading infringing material and we cooperate with copyright holders to identify and promptly remove infringing content."
Users of the site are strongly warned not to upload anything that isn't their own creation or for which they have permission to distribute.
"The way to ensure that your video doesn't infringe someone else's copyright is to use your skills and imagination to create something completely original," explains a "Copyright Tips" section of the YouTube site. "It could be as simple as taping some of your friends goofing around, and as complicated as filming your own short movie with a script, actors and the whole works. If it's all yours, you never have to worry about the copyright — you own it!"
Easily Confused
As has been proven by hackers who circumvent most every form of digital rights management protection developed by the music and movie industries, Google can expect its system to come under quick attack.
Fingerprinting video clips seems to be an easily fooled method of protecting copyrights.
J. Gold Associates Principal Analyst Jack Gold questioned whether software will ever be able to satisfactorily filter video clips.
"While I think it is possible for Google/YouTube to create some sort of software that looks for particular signatures within video files, it is highly unlikely that they will be able to eliminate all forms of video on YouTube which is copyrighted," Gold told the E-Commerce Times.
Just Too Complex
Such a program might work if the copyrighted clips were left completely untouched. However, it might not stand a chance against the ingenuity of savvy video uploaders determined to use YouTube to spread videos they don't own, Gold said.
"It is an incredibly complex problem to identify video streams," observed Gold. "All that is necessary is for a poster to change a few seconds of the video or move some frames around and the signature has suddenly changed and is now undetectable by the Google filters. I do not think we will reach a day where automated processes can ever eliminate copyrighted posting on the Internet. It's just too hard to do and, with a little bit of smart hacking, too easy to defeat."
Even if the software does work and it — or a judge's order — manages to reduce YouTube to a vast collection of only silly home movies, Gold thinks Google was wise in acquiring the company.
"No, Google did not make a mistake buying YouTube, although they probably paid too much," he said. "Google is after 'eyes' on browsers and YouTube has lots of views. That is how Google makes its money — pumping out directed ads at specific users and collecting information on surfing habits. YouTube brings them that big time."