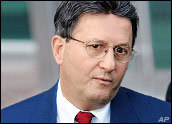 Joseph Nacchio, the former CEO of Qwest Communications convicted of 19 counts of insider trading, was sentenced Friday to six years in prison plus financial penalties totaling US$71 million.
At Nacchio's hearing in the U.S. District Court for the District of Colorado in Denver, U.S. District Judge Edward Nottingham ordered Nacchio to forfeit the $52 million he gained in illegal stock sales plus pay an additional fine of $19 million, according to reports. In addition to the six-year prison term, Nacchio, 58, will also have to serve two years' probation once he finishes his time in prison.
Prosecutors argued for the maximum allowable prison sentence of 87 months. Nacchio's defense pleaded for leniency because of the health of his son, David, who attempted suicide seven years ago. Nacchio's attorneys had reportedly also requested that he be ordered to forfeit no more than $1.8 million.
Nacchio, also a former executive at AT&T, did not testify at his hearing. His defense had requested a new trial, according to reports, arguing that publicity was biasing the jury, but Nottingham denied that request.
Nottingham reportedly also denied Nacchio's request to be released on bond pending an appeal of his conviction. Nacchio will have to report to prison within 15 days of one being assigned to him.
Multiyear Scandal
Nacchio served as CEO at Qwest from 1997 to 2002, and is one of several former executives who have been blamed in connection with the multibillion-dollar accounting scandal that nearly bankrupted the telecommunications firm.
Nacchio was accused of selling roughly $100 million worth of Qwest stock in 42 separate trades, all during the first few months of 2001. Qwest's stock price, meanwhile, dove from roughly $60 a share in 2000 to $2 a share in 2002, forcing the company to restate more than $2 billion in revenue.
Qwest acknowledged that it used improper accounting practices, restating results from onetime sales of capacity on its high-speed network and treating as revenue capacity swaps it made with overseas carriers.
After being indicted at the end of 2005, Nacchio was convicted in April of selling stocks while withholding information about Qwest's true financial condition. A civil fraud case is reportedly also pending against Nacchio and four other former Qwest executives for their role in the scandal.
Toughened Approach
The Qwest case is one of several in recent years that have prompted the U.S. government to take a tougher stance on white-collar crime than it had before. Bernard Ebbers, former CEO of WorldCom, was sentenced to 25 years in prison for fraud, while Jeffrey Skilling, formerly of Enron, is serving a sentence of more than 24 years for his role in the widely publicized demise of the energy firm.
"This seems to represent a larger trend toward taking white-collar criminal activity and corporate crime more seriously, and backing that up with criminal penalties that company executives have historically avoided," Greg Sterling, founder of Sterling Market Intelligence, told the E-Commerce Times.
Making an Example
Indeed, now that it's becoming clear corporate criminals will have to face more than just simple financial penalties, the result could very well have the desired inhibiting effect on corporate crime in general.
"This sends a pretty strong warning that these kinds of behaviors come with severe penalties," Rob Enderle, president and principal analyst with Enderle Group, told the E-Commerce Times. "The combination of financial penalties and incarceration should serve as a pretty significant deterrent to anyone else thinking of engaging in behaviors like that."