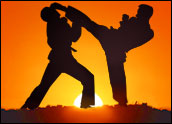 Microsoft announced plans to acquire online advertising exchangeAdECN — its latest move in an aggressive strategy to build out its advertising platform.
Although the financial terms of the deal haven't been disclosed, "all of the shareholders are extremely, extremely happy with the deal and acquisition price," Henry Wong, an AdECN board member and lead investor in the firm, told the E-Commerce Times.
Microsoft intends to complete the purchase in the first half of its current fiscal year.
Neutral Platform
A 2003 startup, AdECN runs an exchange of 37 ad networks that purchase ad slots from Web sites and then resell them to advertisers.
AdECN's unique model is the prime reason Microsoft targeted the firm for acquisition, said Wong, who is also a venture partner with Novus Ventures, which provided a US$3 million bridge fund to the firm in 2005.
"There is a big difference between what AdECN does and what Right Media does," he said, referring to Yahoo's pending acquisition of another ad firm for $680 milion. "AdECN is a neutral platform that does not work directly with publishers or advertisers."
Other platforms do — and that eventually disintermediates a third-party player that could be crucial to the network's success, Wong pointed out. "We work with ad networks so we don't cannibalize the exchanges."
Missing Planks
The acquisition is expected to complete the few missing planks in Microsoft's online advertising platform and help the software giant better compete against rival Google. AdECN will be integrated with its adCenter platform, Kevin Johnson, Microsoft platform and services division president, told Wall Street analysts in a conference call. One of the goals of adCenter is to more fully develop its auction capabilities around search terms — a goal that the AdECN buy should help facilitate.
Other elements in Microsoft's growing online ad empire include the pending $6 billion acquisition ofaQuantive, a Seattle-based ad firm that operates three individual businesses in the online marketing space: Avenue A | Razorfish, which produces creative content for interactive ads; Atlas, which develops digital marketing technology; and DRIVEpm, a publishing system billed as performance media.
When it announced the aQuantive acquisition in May, Microsoft said it would enable a comprehensive interactive advertising platform that would eventually include Xbox Live interactive games, IPTV (Internet protocol TV) broadcasts and video-on-demand.
Filling in the Edges
Indeed, the AdECN buy appears to be a play to fill out the edges of Microsoft's platform, with a focus more on monetization opportunities than strategic positioning, according to Anand Subramanian, CEO of ContextWeb, which offers its own online ad platform.
"Though a lot of people are speculating this will help Microsoft compete against Google, I think it is more about helping Microsoft sell its remnant inventory," he suggested.
Microsoft has a surplus of such inventory — small bargain basement ads, in other words — that it wants to be able to offer to advertisers, Subramanian told the E-Commerce Times. "This is not so much about getting advertisers to the table as it is about selling existing inventory to ad networks."
Google Weighs In
Either way, the AdECN acquisition definitely fills an immediate need for Google, as well. The company is using the proposed Microsoft buy to argue that there are no antitrust issues with its own intended acquisition of DoubleClick. The $3.1 billion deal is scheduled to undergo congressional scrutiny later this year in a closed hearing before the House of Representatives'Subcommittee on Commerce, Trade and Consumer Protection.
Other pending deals in the online ad frenzy include AOL's planned purchase of online behavioral targeting advertising network Tacoda and online ad-serving company AdTech — both for an undisclosed amounts; and WPP Group's planned acquisition of online advertising company 24/7 Real Media for $649 million.
The acquisition activity signals "a new phase in online advertising, in which barriers between technology providers and advertising agencies are beginning to fall," says Google policy counsel Pablo Chavez in a blog post.
"These market dynamics will ultimately benefit consumers who will see more relevant and useful ads, and provide advertisers and publishers with more choices," Chavez continues. "And these are exactly the kind of competitive and innovation-driven market conditions that policy makers should be encouraging in our economy."