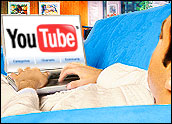 Google's YouTube is seeking to depose high-profile comedians Jon Stewart and Stephen Colbert as part of its defense of a US$1 billion copyright infringement suit filed by Viacom, parent company of the Comedy Central network where they serve up their fake news and political digs.
Stewart, who hosts "The Daily Show" and Colbert, of the show's spinoff "The Colbert Report," are among dozens of people who Google attorneys have told Viacom lawyers they want to question as they prepare for what could be an epic trial, according to documents filed in connection with the suit.
Clips from Stewart and Colbert's shows were among the most popular and most viewed on YouTube before Viacom began aggressively pursuing their removal from the network.
Google did not respond to a request for comment, and it's not clear what it may hope to gain from deposing the TV stars in the suit, which focuses on whether Google knowingly let video clips from Viacom properties — which include a slew of cable holdings from MTV and VH1 to Comedy Central and Nickelodeon — stay on the site and generate advertising revenue even though it lacked authorization to play them.
Google is also seeking to depose Viacom Chairman Sumner Redstone. For its part, Viacom is seeking to have its attorneys quiz several high-profile Google executives, including cofounders Sergey Brin and Larry Page and YouTube cofounders Chad Hurley and Steve Chen.
Hurry Up and Wait
The deposition requests were part of a scheduling order filed with Judge Louis Stanton in the U.S. District Court for the southern district of New York.
In the order, the judge laid out a time frame that calls for depositions to begin on Nov. 7, with third-party witnesses to be deposed first. Viacom, Google and YouTube executives and employees wouldn't be questioned until March of 2008, and questioning could last through 2008.
That likely means a trial won't start until early 2009 at the soonest — if one occurs at all. However, that's not a given, and a settlement is still a likely outcome, said JupiterReseach analyst David Card.
The sheer size of the lawsuit and other high-profile moves by Viacom to support Google rivals, suggest the legal wrangling could be part of a larger negotiation strategy meant to get Google to agree to accept a smaller percentage of the advertising revenue generated when users view a third party's content on YouTube.
"This appears to be a flagrant example of negotiating a deal in public," Card noted.
Dedicated to DMCA
That schedule may also give YouTube time to deploy and prove the effectiveness of its copyrighted-content filtering system, which attorneys recently told the court would be ready for initial deployments this fall.
At least in theory, such a system would enable YouTube to be more proactive in searching out and removing copyrighted content it didn't own the right to display. Currently, Google says that YouTube responds to all requests to remove content, as required by the safe harbor provisions of the Digital Millennium Copyright Act (DMCA). However, with tens of thousands of users around the world all capable of posting video clips to the site, YouTube may not be able to keep up with infringing posts.
Though the specific details of its legal strategy — and why Stewart and Colbert might be valuable witnesses — aren't known, Google has made it clear it believes YouTube enjoys DMCA protections. The search giant has repeatedly said it carefully vetted YouTube before finalizing the $1.65 billion deal to buy it last year. Still, it has also set aside part of that purchase price to pay to defend copyright suits.
"Google hasn't given any sign of wavering from its argument that it has protections under the law," said Forrester Research analyst Josh Bernoff. Still, he said, the company could be taking a risk by allowing such a high-profile case to be in the hands of a judge or jury, especially since even a partial victory for Viacom would invite more legal action, and may yet be willing to strike a deal. "We're a long way from the end of this story," Bernoff concluded.