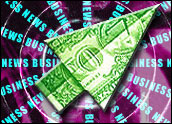 The stock market is making its after-the-fact adjustment to the end of the Microsoft-Yahoo saga, which culminated this weekend. After last minute negotiations failed, Microsoft walked away from its bid to acquire Yahoo for slightly more than its original offer of US$33 per share.
To recap: Yahoo CEO Jerry Yang was adamant that the company was worth at least $35 to $37 per share. Microsoft indicated it might go a little higher than its original offer — but not much. Microsoft CEO Steve Ballmer was also just as adamant that Yahoo was not worth the premium.
On Monday, the markets adjusted their valuations accordingly. Yahoo, which has seen a steady rise in its stock price ever since Microsoft made its offer, found its shares off by 16 percent. Shares for Microsoft, meanwhile, are up 2 percent.
Haunted by $37 per Share?
The question of the day, of course, is whose point of view was right? Can Yang deliver to shareholders a consistent $37 per share valuation for the company going forward? Many investors are now conditioned to expect that price point, thanks to Yang's persuasive arguments, as well as Yahoo's Q1 earnings, which were the first quarterly profit for the company in two years. Based on Monday's morning's $24.51 per share price, it may be awhile before that is likely.
"Yahoo shares are reeling following news that Microsoft has decided to walk away from the deal," Fred Ruffy, an independent stock analyst, told the E-Commerce Times.
An Inevitable Decline?
Conversely, should Microsoft have just ponied up what Yahoo wanted in order to finally sally forth into the market with a strong Web 2.0 plan?
Now, Microsoft must turn its attention toward how to patch together the functionality — not to mention attract the number of eyeballs — that Yahoo would have delivered to the Microsoft corporate fold. It can rely on its current market strength — desktop software — for only so long before it begins an inevitable decline.
"Microsoft's business is still firmly rooted in its installed software base, but as we've seen with Vista, the long-term viability of this model for the company is in question," Eric Litman, managing director of WashingtonVC, an early stage fund and incubator in Washington, told the E-Commerce Times.
Indeed, Microsoft's earnings for Q3, which ended March 31, were a reflection of this uncertainty for the company. Net income beat Wall Street expectations by 2 cents, and the company's projections for fiscal 2009 look solid. More telling was that Windows and Office sales were muted.
"The strategic appeal of the Yahoo acquisition was to provide a global distribution and monetization platform for the company's ongoing transformation to a [Sofware as a Service] model," Litman commented.
Microsoft has begun an internal transformation in both consumer and enterprise offerings with its Live offerings and is holding its own against many Web 2.0 applications. For instance, a case can be made that Microsoft Live's product line meets, if not exceeds, what the recent Salesforce.com-Google tie-up is offering.
For the most part, though, Microsoft's approach to organic, online user growth within its own media properties has failed to achieve the scale required to safely transition its product line from the desktop to the Web, Litman observed.
This failure "begs the question of whether or not their historic zeal for complete control over their delivery chain is the appropriate model going forward," he remarked.
Despite its long-term issues, Microsoft today is in a better position with its shareholders than Yahoo, Matt Eventoff, president of PPS Associates, told the E-Commerce Times. "Right now, Yahoo is worth significantly less than the offer they just turned down. Not only that, it didn't provide a grand master plan that showed what they could do to be worth $37 per share."
There are a lot of Microsoft shareholders relieved the company didn't decide to strain to digest a $44 billion acquisition. "The company can just continue to make smaller acquisitions," added Eventoff.
One Clear Winner
If there is any short-term winner following this $44 billion skirmish, it is Google, which has been testing out an arrangement with Yahoo over the past few weeks, running ads on a portion of Yahoo's searches. The test was reportedly successful — and according to news accounts, one of the deciding factors for Ballmer.
Google is poised not only to possibly roll up a new strategic relationship with Yahoo, but is also eminently positioned to maintain its titular head of the Web 2.0 community.
"Google stands to be the biggest winner in this fight," WashingtonVC's Litman said. "It gains from both the near-term revenue opportunity presented by Yahoo, as well as the confusion created in the market by the uncertainly remaining for both Yahoo and Microsoft as viable ad platforms."
Indeed, both Microsoft and Yahoo have all but crowned Google as the industry titan to beat with their public posturing. All Google has had to do was sit back and enjoy the attention, PPS Associates' Eventoff said. A company promoting itself as a titan is one thing. "To have your competitors do it for you — well, even Google couldn't pay for that kind of marketing."