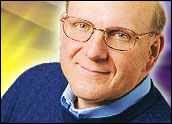 A closely watched meeting of the Microsoft board of directors has reportedly ended with CEO Steve Ballmer given the authorization — and possibly the extra cash — needed to do what it takes to get the Yahoo acquisition done or decide to drop it.
Microsoft's board met Wednesday evening in Redmond, Wash. There was no formal word from the software giant about what was discussed or decided.
The board authorized Ballmer to decide how to proceed on the deal, according to The Wall Street Journal. The board may have discussed whether to raise the offer by another US$2 per share, The New York Times reported, which would boost the value of the deal — originally worth around $44.6 billion when it was announced on Feb. 1 — to $33 per share.
Pulling the Plug?
On Thursday, Ballmer reportedly told Microsoft employees during a regularly scheduled town meeting gathering that he is prepared to pull the plug on the deal if other options don't pan out.
While important to Microsoft, the Yahoo acquisition is only part of a larger strategy, Ballmer said.
Ballmer also reportedly told employees that Microsoft's next move will be revealed soon.
Microsoft shares enjoyed a strong day Thursday amid a rising market, gaining 2.2 percent to $29.16, while Yahoo shares slumped, giving up about a half a percent to $27.25.
Neither Yahoo nor Microsoft responded to requests for comments on the state of the offer on Thursday.
Ballmer's Ball
With the board's authorization in hand, how Ballmer proceeds "really depends on how badly he wants this," Enderle Group Principal Analyst Rob Enderle told the E-Commerce Times.
"A proxy fight can be, as it was in HP's case, a very political and public kind of battle, which can do a lot of damage to both the acquired and the acquiring company," he said. "In terms of lost sales, distraction and straight cost, it can also be open ended and very hard to accurately estimate."
Microsoft may in fact make out better in the long run by paying more up front, Enderle continued. However, the $2 more per share may still be well below what Yahoo feels is a fair offer.
The $2 per share boost "isn't even halfway to the number that Yahoo says they want, and I doubt Microsoft can justify going any higher," he added. "Unless Yahoo really grasps the cost to them of either a proxy fight or Microsoft walking away — which should be really obvious to them at this point — I doubt the two will come together."
It's possible that Yahoo has floated the $35 to $37 per share range in an effort to get the bid raised, and will agree to an offer at $33, Enderle said. Even if the two reach an agreement, getting the deal blessed by regulators may be no easy task as well, with Google likely to make noise before regulators in both Europe and the U.S.
"Microsoft will likely get through this due to Google's dominance, but it will be far from a walk in the park," Enderle said, adding that whatever the outcome, the deal "will define the remainder of Ballmer's tenure at Microsoft."
Watching the Calendar
Microsoft had set a deadline of last weekend for Yahoo to start formal talks, but has not yet said how it will proceed as a result of the silence from Yahoo headquarters in Sunnyvale, Calif.
Ballmer has raised the prospect of a proxy fight to replace the Yahoo board en masse at the company's annual shareholder meeting, which will likely be held before the end of July, and also has said Microsoft might walk away from the deal altogether.
From Yahoo's perspective, meanwhile, even a slightly raised bid could ratchet up the pressure on the board to make the deal, Ovum analyst David Mitchell told the E-Commerce Times.
"If Microsoft walks away, things could get ugly," he said, adding that Yahoo's stock price, lifted by the pending offer, could drop sharply and could open the company up to being acquired at an even bigger discount.
"If they turned down Microsoft, there would be enormous pressure on the board to come up with a better alternative quickly or start to show right away they can do better on their own," Mitchell commented.