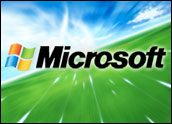 Microsoft's three-week deadline for Yahoo to initiate formal talks about a merger has passed, putting the software giant in the position of having to decide how aggressive to get in its bid to take over the Web portal.
The three-week deadline that CEO Steve Ballmer set in a letter to Yahoo earlier in the month passed on Saturday without any additional formal response from Yahoo.
Ballmer had said that after the deadline, Microsoft would consider various options — including a proxy fight to elect a new slate of directors to the company's board and possibly lowering the offer it made on Feb. 1, which at the time was valued at US$44.6 billion.
In fact, the half-cash, half-stock deal has shrunk as Microsoft shares have weakened over that time frame, and it is now valued at closer to $42 billion.
Both companies saw their stock prices fall in Monday trading, with Yahoo shares down 1.7 percent to $26.32 and Microsoft giving up even more ground, losing nearly 3 percent to $28.94 in afternoon trading.
Neither Microsoft nor Yahoo responded to requests for comment on the passing of the deadline.
Hostile Options Mulled
Microsoft has several tools it could use to try to get Yahoo to move off its position that the offer on the table does not adequately value the portal and therefore isn't worth discussing formally. All involve a more hostile approach than the company has typically used in acquisition efforts in the past.
Microsoft could take its offer directly to shareholders and at the same time try to remake the Yahoo board with a proxy battle, but Yahoo has the power to decide when its annual meeting — when directors are chosen — will be held and has not yet scheduled that meeting. Ballmer mentioned the strategy late last week when he spoke at a conference in Madrid, Spain, suggesting the software maker would have no choice but to appeal directly to shareholders.
Yahoo also has a significant base of shareholders, including cofounder and CEO Jerry Yang and some major institutional investors, who are on record as opposing the deal as currently constituted.
That Yahoo has not been bowed by the deadline — despite the fact that alternatives such as a merger with AOL or a competing offer have yet to materialize — suggests it feels it can win a proxy battle, Endpoint Associates President Roger Kay told the E-Commerce Times.
Because proxy battles can be costly and lengthy distractions, "Yahoo must have done the math and come out confident it can prevail," Kay added.
The prospect of alternatives, such as a partnership in which Google handles search advertising for Yahoo, may also give shareholders reason to believe Yahoo can improve performance on its own, he said.
Walking Away?
Microsoft also could choose to pull the offer — or threaten to do so. Such a move could send Yahoo shares plunging and create opportunities for other would-be buyers as well.
Alternatively, Microsoft could sweeten the offer, but has repeatedly said it would not do so, with Ballmer even citing data showing that Yahoo was seeing a slowdown of use on its family of Web sites as evidence the offer was priced right.
A higher offer may come eventually, even if it's after Microsoft threatens to walk away, UBS analyst Heather Bellini said in a research note on Friday, adding that she considers the threats and deadlines as posturing.
"Even if Microsoft tried to lower the value of the deal or walk away, we would expect them to eventually come back and raise it in order to consummate the transaction in a friendly manner," Bellini wrote.
Microsoft also clearly needs Yahoo as much as ever, Gartner analyst David Mitchell Smith told the E-Commerce Times. Google's recent blockbuster earnings report suggested that time is of the essence for the rivals to avoid falling further behind.
"Whether Microsoft built a boost into the price it is willing to pay remains to be seen," Smith said. "But they clearly recognized the need to make a bold move in the online advertising space to solidify their position, and it's hard to see them changing that position in the face of resistance from their merger partner."