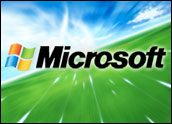 Microsoft's Q3 earnings report is a mixed bag: Net income beat Wall Street expectations by 2 cents, and the company's projections for fiscal 2009 look solid. However, its Windows and Office sales were muted, and its outlook for the current quarter is disappointing.
The result, perhaps not surprisingly, was a 5.6 percent drop in share price early Friday morning, to US$30.01. The stock closed the day at $29.83.
Wall Street's reaction to the lackluster earnings did not temper Microsoft's tough talk about merging with a reluctant Yahoo. Rather, the company is becoming more bellicose, all but promising that it will either mount a hostile takeover or walk away from the deal completely if Yahoo does not come to the negotiating table this weekend.
By the Numbers
Microsoft's net income for Q3, which ended March 31, dropped to $4.38 billion, or 47 cents a share from $4.93 billion, or 50 cents a share, in the same period last year. Analysts had estimated Microsoft would post earnings of 45 cents a share. Revenue for the quarter rose to $14.45 billion from $14.39 billion a year ago.
For Q4, Microsoft expects earnings of 45 to 48 cents a share. Analysts had been looking toward the higher end of that range — 48 cents — and were expecting revenues to reach $15.5 billion. Microsoft is projecting $15.5 billion to $15.8 billion in revenue.
For fiscal year 2009, which starts in July, Microsoft is expecting revenue of $66.9 billion to $68 billion.
Yahoo Intentions
Redmond is not allowing its earnings report — or the fact that Yahoo posted itsfirst profit in two years earlier this week — weaken its hand in pursuit of the company.
"Speed is of the essence," said Chief Financial Officer Chris Liddell in a conference call on Thursday. If no deal is reached by this weekend, Microsoft will reconsider its offer and reveal new plans next week. It could either abandon its pursuit entirely or move into hostile takeover mode, in which case its $44 billion offer will be taken off the table and a lesser amount will take its place.
CEO Steve Ballmer has sent the same signals recently.
If it comes to that, it may not be the end of the world for Microsoft. "There is no guarantee that this acquisition would deliver the value it is looking for," Greg Sterling of Sterling Financial told the E-Commerce Times. "Also, Microsoft could go through billions buying functionality that matches Yahoo in one-off transactions and still not come close to spending $44 billion."
That's one scenario Microsoft no doubt is considering.