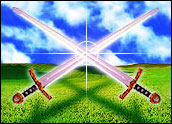 HP is proving relentless in its bidding war with Dell over data storage company 3Par. Within hours after Dell matched HP's offer of US$1.8 billion, or $24.30 per share, HP countered with $2 billion, or $30 per share.
The battle for the company broke out in earnest in mid-August with the first public offer from Dell, for $1.15 billion. HP promptly followed with an offer of $1.6 billion, which Dell countered with an additional $20 million. The offer agreement allows Dell to match any competing bids that might be made for the firm.
Where the bidding will go from here is anyone's guess.
"Maybe they could just have a duel at dawn," suggestedEnterprise Strategy Group analyst Mark Peters.
Joking aside, both firms appear dead intent on winning the acquisition. With all the attention paid to the bidding war, though, there's been scant discussion of the reasons 3Par has suddenly become such a hot property.
Top-Notch Company
The simplest analysis is that both companies want 3Par's functionality to further delve into cloud storage, Peters said. It's not that simple though.
"Arguably, 3Par has the perception — and potentially the reality — of being the only firm able to enter the high level of the storage industry," competing with the likes of IBM, for example, he said.
The firm is not necessarily there yet, Peters added, and there is an element of branding — 3Par is the equivalent of the BMW of cloud storage — as well.
All that said, "3Par is knocking on that particular door quite heavily," Peters concluded.
3Par has been very adept at incorporating thin provisioning in its product line, Dave Hill, an analyst with the Mesabi Group, told the E-Commerce Times.
Essentially, that allows users far more flexibility in their allocation of storage, he pointed out. "Their architecture does well balancing clusters, and their automatic storage tiering moves data around very effectively."
Overall, their architecture, design and innovation are very powerful, said Hill.
The tiering functionality is becoming particularly important to companies as data proliferates online, noted Vanessa Alvarez of Frost & Sullivan.
"With so much rich media content on the Web now, companies and consumers are demanding high-value storage capabilities," she told the E-Commerce Times. The automatic tiering that is part of 3Par's functionality lets a company prioritize and reshuffle content in storage without much effort.
Who's the Strongest?
Certainly, all of these factors have played a role in both companies deciding to pursue 3Par, said M. Eric Johnson, Ph.D., director of the Center for Digital Strategies at Tuck School of Business at Dartmouth. However, there is a decidedly non-business element at play as well.
"I think we are getting to the place where this has little to do with 3Par and everything to do with who is the biggest and best company," he told the E-Commerce Times.
"At this point, even if HP loses, it will have won — because it would have forced Dell to pay more for this company than it is worth," Johnson observed.
The same will be true for Dell, of course, but the company will likely feel the loss of 3Par more if it does indeed lose its bid.
"For Dell, this was always about growth in an area — high-end storage — in which they did not have a foothold," Peters said. "For Dell, this was about becoming an enterprise player, instead of being the company that just sold products to enterprise players."