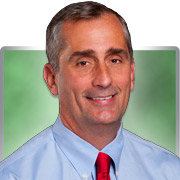 Intel announced Thursday that COO Brian Krzanich will take the helm on May 16, replacing current CEO Paul Otellini, who will retire this month after 38 years with the company, eight of them as its chief.
Krzanich has his own long history at Intel. The 52-year-old joined the company 31 years ago as a newly minted college graduate.
Intel likes to tap insiders to hold the top spot, especially those who have many years of demonstrated loyalty. Still, how Krzanich will lead the company as the industry enters a new computing era is unknown.
Insider Status: Plus or Not?
PC use is rapidly declining as mobile devices gain ascendency, and Intel will need to adapt. In facing that challenge, Krzanich's insider status may be a plus.
"There is no denying that Brian Krzanich has a number of challenges ahead of him; however, Intel has a history of having comparable challenges and finding a way of rising and meeting them," said David Cadden, a professor in the Entrepreneurship and Strategy Department at Quinnipiac University.
"That is why it was gratifying to hear that Intel chose an internal candidate, one who has been schooled on the Intel mantra of 'only the paranoid survive,'" he told the E-Commerce Times.
There's a potential downside to being a company veteran, though.
One of the issues Krzanich will need to address, and probably soon, is the disappointment in some quarters that there won't be an outsider with new ideas and fresh perspectives, said Val Wright, principal of Val Wright Consulting.
"His approach won't be radical enough to satisfy some who were hoping for new blood to transform the company," she told the E-Commerce Times.
Internal promotions can be tricky, due to colleagues' high expectations. How well Krzanich is able to harness his insider knowledge to accelerate positive results will determine his success in his new role, Wright suggested.
"Brian should leverage his deep knowledge of how things are done at Intel to clarify the strategy, align his new leadership team, and engage employees behind the company direction," she said.
In any case, Krzanich would be wise to tap some outsiders to serve on his team, said Karissa Thacker, Ph.D.
"If he is smart, he will put some outsiders in key roles to make up for the fact that he grew up at Intel," she told the E-Commerce Times.
"The biggest hurdle for Brian will be his extensive career and experience at Intel," Thacker continued. "If we assume that Intel needs to do more than make the obvious move to mobile, there is a case to be made for a CEO who is not so steeped in Intel's PC-centered culture. An outside CEO would be more likely to lead in a bold new direction."
Spotlight on Renee James
Krzanich's appointment will be bolstered considerably by that of Renee James, another Intel insider tapped to be the company's president. A 25-year company veteran, James was technical assistant to former CEO Andy Grove, who famously coined the mantra, "Only the paranoid survive."
James has a stellar background, thanks to her acquisition management experience, said Rob Enderle, principal of the Enderle Group.
"She will likely accelerate the move to integrating security features into Intel's products, which could be the only thing that may offset the massive security problems Android is experiencing," he told the E-Commerce Times.
Her close ties to Grove are a plus as well, Enderle continued.
"Under Grove, Intel enjoyed its strongest growth and customer and employee loyalty," he pointed out, "and she has the potential to return the company to those older, better times, both internally and externally."