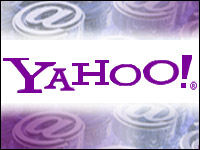 Yahoo posted a healthy rise in profits for Q1, an increase fueled in large part by a US$401 million gain in the initial public offering of China's Alibaba.com. Net income rose to $542.2 million — or 37 cents per diluted share — from 2007 Q1's $142.4 million, or 10 cents per diluted share.
The company reported earnings of $150 million, or 11 cents per share, beating out analyst estimates by 2 cents. It was the first quarterly profit for Yahoo in more than two years.
Still, champagne corks were probably not flying at the Sunnyvale, Calif.-based firm. While its financial performance in the last few months was more than respectable, it was likely not good enough to dissipate the $44.6 billion Microsoft takeover cloud hovering over the firm's head.
Indeed, CEO Steve Ballmer has already told reporters that Microsoft does not plan to budge. "We are offering a lot of money," he said at a conference in Milan, Italy. "If Yahoo's shareholders like it, that's great. [If not,] we are prepared to go forward without a merger."
No More Mr. Nice Guy?
Microsoft could well go into attack mode now. Earlier this month, Ballmer had threatened not only to replace Yahoo's board, but also to lower its bid.
Interestingly, Yahoo's share prices have dropped since the news of its earnings — a reflection of the growing tension. Shares were down 46 cents to $28.08 by Wednesday's market close.
"The decline in the share price seems to be due to the fact that now that the earnings have been released, the focus is shifting back to the possible merger with Microsoft," Fred Ruffy, an independent stock market analyst, told the E-Commerce Times.
"To be specific, even though the results were better than expected, it still seems unlikely that Microsoft will raise its $30 a share offer for Yahoo," he said.
Some investors had been looking for Yahoo to deliver a blowout quarter that might have given the company more bargaining power in dealing with Microsoft, Ruffy noted. "However, while the results were a bit better than expected, it probably isn't enough to motivate a higher offer from Microsoft or any other possible bidder."
Yahoo likely will continue to fight Microsoft's bid, which could prolong the dispute and offer relatively little upside for Yahoo shares, Ruffy added.
Credit Suisse, for example, downgraded Yahoo's stock to Neutral. Yahoo is likely to fight any offer from Microsoft, Ruffy noted, and there's little chance that Microsoft will sweeten the deal. Susquehanna also predicted that a change to the bid is unlikely despite the better than expected first quarter earnings.
"In short, although the report was pretty good, there seems to be some disappointment that it wasn't better," Ruffy concluded.
Cat and Mouse Game
Going by Wednesday's indicators, there is little sign of a rapprochement between the two firms, Sterling Market Intelligence Founding Principal Greg Sterling told the E-Commerce Times.
"Guidance was affirmed for the year, so Yahoo will continue to publicly state that it deserves more from Microsoft. However, Microsoft has already indicated to the market that it won't budge," he said.
"The battle now moves on to the institutional shareholders and what they perceive. Absent any concessions on either side, we'll now likely enter the promised proxy battle," Sterling predicted. "Most of the institutional shareholders appear to want the deal, but the second largest shareholder, Legg Mason, appears to side with Yahoo on the question of value, seeking a higher bid."
There is the possibility, though, that Microsoft will sweeten its offer once Yahoo agrees to have a "real conversation," noted Mike Cassidy, CEO of Undertone Networks.
"The tone of the earnings release was that Yahoo was open to a deal, but only under the right terms," he told the E-Commerce Times. "Microsoft's Steve Ballmer and his team should use this as an opportunity to sit down and have a formal discussion on closing a deal, with a price increase as one of the topics on the table."
It will probably be weeks before any tangible announcement is made, said Cassidy. "This cat and mouse game has been going on for months, so what I'm most looking forward to is all the decisions made post acquisition — as far as integration, site naming, content partnerships, sales structure, and so on."
Given the stakes, it is unlikely that Microsoft will allow the acquisition to fail. Acquisitions are the only means it has to compete with Google, Sapient Group Creative Director Matthew Pollock told the E-Commerce Times.
"Purchasing aQuantive gave Microsoft the engines, but it did not give Microsoft the reach into consumers. Nor did it give them the scale in online advertising or search." Bringing Yahoo into the fold would make Microsoft a clear No. 2 player in the space and a direct threat to Google.
"If Yahoo wants to remain independent, it needs to put the after burners on in the innovation department or drive off into the sunset," Pollock suggested. "If you ask me, it's a win-win situation for everyone but Google — Yahoo's disappointing earnings report on Tuesday opens the door for others to consider a bid, but Microsoft's rich offer validates the value Yahoo could bring — and I doubt it will change the game."